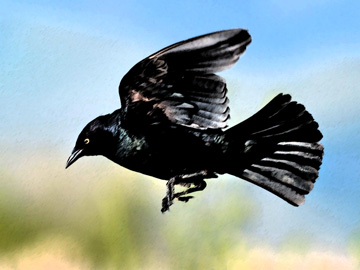 They possess nothing but two noises—
one a skeleton clacking upstairs,
the other the shriek of wounded stars.
What heartless god curses this summer bird
with such a hue and cry?
They descend like black angels expelled
from heaven, and land like an affront,
croaking the rudeness of the blinding sun.
Who clothed them in this inky cloak
then cast them unsponsored through the air?
Two clash over some discarded scraps,
lock beaks tight on each other's throats,
then tumble through the dust like cowboys.
Their thirst must wait for distant storms.
Why no bath, no house to succor them?
Every hiding place should be green, cool green.
But they must hide themselves in shadow.
Targets of cruel slingshots, ignorant stones.
Heat and indifference would have them all dead.
Why should bright colors shun them like a shame?
Only at night are they safe from pain.
A silent symphony draped through the trees.
A misericord from an absent ruler.
By midnight they are invisible priests,
praying for a dawn to end their hunger.
Sean Lause lives in Bluffton, Ohio, with his son Christopher and their cockatiel, Maria. His poems have appeared in The Minnesota Review, The Alaska Quarterly, Another Chicago Magazine, The Beloit Poetry Journal and Poetry International. His first book of poems, Bestiary of Souls, was published in 2013 by FutureCycle Press. His favorite poets are Emily Dickinson, Rimbaud, and The Ramones.