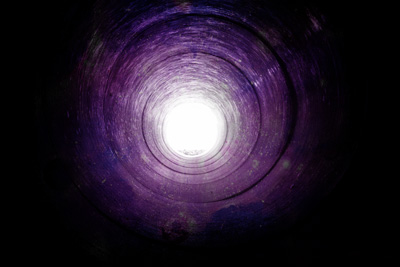 If we imagined the divine as
horizontal instead of vertical,
would saints have wheels—or skis,
in northern reaches?
Would worshippers look into the
distance with leveled eyes and
imagine their loved ones beyond
the line of trees, hills, or concrete?
And would houses of worship be tunnels
whose ends projected their sacred symbol,
to the vanishing point where vision
failed and faith necessarily took over entirely,
in that realm of metaphor perpendicular
to ours and our privileging of up and those
wings awfully useful to reach it?
For thirteen years, John Zedolik taught English and Latin in a private all-girls school, and in 2010 he completed his PhD, in which he focused on the pragmatic comedy of "The Canterbury Tales." He has had many jobs in his life, including archaeological field assistant, obituary writer and television-screen-factory worker. His poems have been published in such journals as Abbey, Aries, The Chaffin Journal, Eye on Life Online Magazine, The Journal (UK), Poets' Espresso Review, Pulsar Poetry Magazine (UK), Shemom, Straylight Online and in The Pittsburgh Post-Gazette. Additionally, he has poems forthcoming in Plainsongs, U.S. 1 Worksheets and The Same. In recent years, his production of poetry has increased dramatically, due to the ease of composing upon a smartphone. He hopes this negotiation between technology and poetic inspiration continues to yield work that pleases him—and occasionally the world.