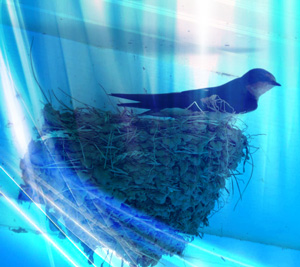 When the real estate agent hipped open
the attic's plywood door, a swallow fell
from the mud nest fastened to the chimney,
and — flying from that silt sconce through
the mote-thick sunlight — spilled from the farmhouse
out a hole where a window should have been.
In the workshop below, I noted another
nest jammed into the joists' cross-bridging,
and — once we'd moved in — a third was found,
wedged into the ceiling of the cellar, its gray,
drooping grasses wet with condensation,
glaring down in the gloaming like
the head of a dank, vigilant witch.
The attic door has been replaced, the joists
and rafters masked with bland fields of drywall,
and the taupe daubs of mortar the swallows
left on every floor are long since scraped away.
But in this confinement I've contrived,
I sometimes see just beyond my normal sight
a bolt of cobalt, or feel a breath of air
against my face in a stock-still room,
and recall their constant, liquid flight lines
erasing all distinctions between inside and out.
Kevin Casey has contributed poems to recent editions of Green Hills Literary Lantern, Hartskill Review, Rust + Moth, decomP, and other publications. His new chapbook, "The wind considers everything --" was recently published by Flutter Press, and another from Red Dashboard is due out later this year.