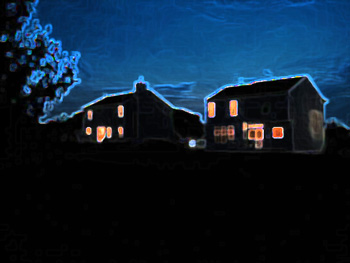 arrives. The late light turning
on me draws the day closer, the east
meadow beyond a grove of birches, some animal
stirring at the edge of sight. Peering out,
my mind grows sharper. Let it happen — release, release
like the wind riffling through the trembling ferns
after two days of rain. In places only whispering birds fly to,
everything collapses into green shadows, my eyes
adjusting to the faceless dark.
I remember a time being afraid of it, even
when I was most hidden. Now it feels safe, the way
the perfected dark lets it all pass without comment,
marking each thing.
What I wanted earlier out of this day stalled
under the furious summer sun, my stubborn seeing only one thing
at a time. Everything in the growing
blackness declares itself unlocking the night.
Something looks back from the flickering trees,
knows me for who I am.
Anthony Botti's poetry has appeared recently in Comstock Review, The MacGuffin, Cider Press Review, Caveat Lector, Clark Street Review, Old Red Kimono, Tiger's Eye, The Rockford Review, and Peregrine. He lives in Boston with his partner and their pug, Ernie, where he works in health care management at Harvard University.