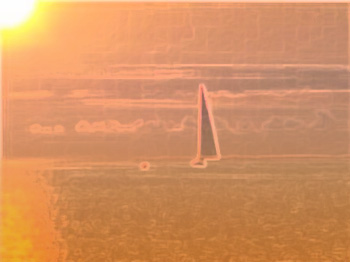 There is a cool fire, one that is inviting
to touch with a half-promise it will not
burn you. I've seen it in the eyes
of kindness once or twice. But I saw it
or something like it too when I rode the ferry
from Martha's Vineyard back to Massachusetts
after a busy day galumphing and happy
when the sun was lowering. Suddenly
the sea turned into a horizontal blaze
and I into a child on a merry-go-round
wanting to clasp the brass ring. At least that
is how the ripples of the sea
attracted me with their powers of enchantment
at about 6:40 just as the day
was thinking about turning again into a night.
It lay as a field of a million salt-sweet poppies
with a carpeted lane in front of the ferry leading
to Wood's Hole, as if rolled out just for me.
For I had climbed and now leaned like a masthead,
so everyone else on the boat disappeared behind.
And all was orange. Glossy orange, then matte.
And then the conflagration dipped to a mere glisten
and then the spell was gone. But since then I
have believed that even in water molecules,
no less in the air, therefore certainly every solid,
there is fire, which if you are alert and catch,
you can see: There is a luster to the world!
I look for it every time I turn a corner
particularly at twilight, wherever I am,
and in strangers' eyes as well when I meet them,
which are aqueous as the sea at Martha's Vineyard
and lit—though from within—by a lowering light.
Widely published both stateside and abroad, James B. Nicola has several poetry awards and nominations to his credit. His nonfiction book,
Playing the Audience
, won a Choice award. First poetry collection:
Manhattan Plaza
, 2014, available at
sites.google.com/site/jamesbnicola
. Second collection:
Stage to Page: Poems from the Theater
, to appear in June of 2016. A Yale grad and also a stage director, composer, lyricist, and playwright, his children's musical,
Chimes: A Christ­mas Vaude­ville
, premiered in Fairbanks, Alaska, where Santa Claus was in attendance on opening night.