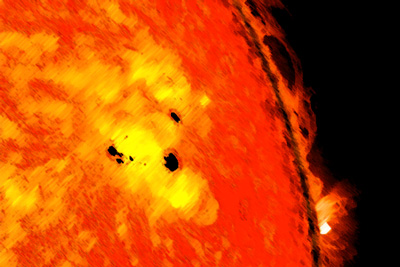 Midst purgatory's weedfields sprouts one clover.
On blinded shelves, between the pulp and pap,
a dashed and stashed encryption offers sight
as fortitude is found in looking over
the life of Job, the context of mishap.
And even the most sweat-sopped marish night
about to drown you in its sea of horror
dissolves in dawn: The dark defines the light.
So if I'm looking at a fun-house mirror
or through a curved perverted looking glass
to spot a glimmer through a pane of terror
of what you say shall never come to pass,
it could be that you aren't looking right.
The dark of sunspots, after all, is bright.
Widely published both stateside and abroad, James B. Nicola has several poetry awards and nominations to his credit. His nonfiction book,
Playing the Audience
, won a Choice award. First poetry collection:
Manhattan Plaza
, 2014, available at
sites.google.com/site/jamesbnicola
. Second collection:
Stage to Page: Poems from the Theater
, to appear in June of 2016. A Yale grad and also a stage director, composer, lyricist, and playwright, his children's musical,
Chimes: A Christ­mas Vaude­ville
, premiered in Fairbanks, Alaska, where Santa Claus was in attendance on opening night.