Page 1 Page 2 Page 3 Page 4 Page 5 Page 6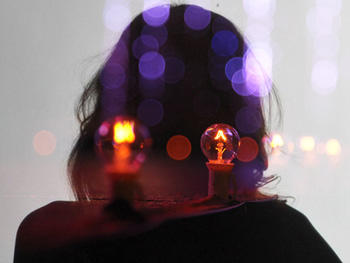 "What are you saying?" says Abrir.
We sit, naked, facing each other on the rumpled, Sateen comforter of his king-size bed. His nervous hands rub the thighs of his crossed legs. Abrir is healthy and fit, but his uneven gasps make me think of someone on a respirator. He tugs at the forest of white hair on his chest.
"What are you telling me, Bryce? That it wasn't… I'm not good anymore?"
Abrir's palm covers himself between his legs. He is ashamed and humiliated. Sometimes I really do think I love him.
"Bryce?"
His breathing eases; he's off the ventilator. He reaches and cups my breasts; his thumbs caress my nipples; he always enjoys that so. His erection grows. He leans in and massages my crossed legs, and his sensual hands glide along inside my thighs toward the center of me, and I am warm and swelling but I place my hands over his, squeeze gently, enough so he understands I don't want him to. And he is upset. He shrinks.
"I have met the enemy, Abrir, and she is me."
"I don't understand!"
"Don't be angry."
"I'm not angry."
"Yesterday, on the subway, I saw the 'me' who never lived her dream, dressed in nine-to-five."
"Nine-to-five?"
"You know, skirt suit, heels, stockings, gold necklace, makeup. I'll do the tag: Sleek, stylish. All business, all woman."
"Your voice is nectar —"
"She is an executive, or a secretary on her way up, or down; she lives for the weekends and rich men who drink Dos Equis and Sky martinis on yachts, and when she smiled at me, dressed like a freed spirit — my toenails not even painted — her smile died and she stared away. And you know what she thought?"
His word stumbles: "No."
"I once dreamed like you, Bryce. But I gave up believing."
"Don't cry."
"I like to cry." He touches my cheek; I move back. "Please let me cry."
"I love you," Abrir says. It is the first time he tells me this after sex.
"Do you think your wife and grown daughter love me?"
"They are in New Jersey."
"Where you belong, Abrir. Not in your pied-à-terre, with me."
He inches closer. His cool hands pet my arms, cup my breasts. They seem to float down to my thighs and he kisses me.
"I would marry you."
"Divorce first?"
His eyes enter mine and he lifts my chin. "If you want me, Bryce, I want you."
I clasp his hands and hold them to reassure him, though I shouldn't, but I don't want to hurt him more. "I'm the enemy, Abrir. Not you."
"Can we just snuggle —"
"Shhh, my Pakistani friend."
"Friend?"
"Go back to your wife."
I mirror his tightly closed mouth.
"Bryce?"
"Erica."
~~~
On my cell I ask Grace to speak up as I weave between mostly twenty-somethings whose clueless lives so matter to them — I can just tell by their stupidly furrowed brows that broadcast hyper concentration on their bullshit conceit as they racewalk around me like Avenue B is a speedway. "Daddy and Gretchen are taking me back to the science room at the children's museum tomorrow," says Grace, informationally, not happily, because she dislikes Gretchen who is, she says, "always bored of me." Grace asks when I will take her so she can be excited out loud. Suffocating guilt and hate for her father pummel me. "Miss you, Mummy," Grace says. I say, "Meet you outside our doorstep Sunday night, as always, Buttercup." Only I won't, and as I approach apartment 1 B for bunghole, I lower my iPhone and watch tears fall to the pavement like wobbly bombs from those old-time World War II planes.
~~~
I kneel on my fake Persian throw rug in the middle of the living-room-slash- kitchen-slash-dining-room-slash-décor-by-Craigslist. Sweat pearls under my arms drip down my side; it is humid tonight but somehow, I think, a death with the window AC on is unseemly — not befitting of an execution. I will not die in comfort. Only serenity. And I am serene beneath my jade-green, long sleeve Egyptian night shirt that I picked out at Lord and Taylor with Abrir. I hear him snigger now when I said, 'Egyptian, close enough to Pakistan.' How he laughed at me like a man, like all men, like I existed for his pleasure. Fuck him! I stand. "Oh, I am so gullible!"
I sit and adjust my white, Alfani chemise, half-off at Macy's.
It's time. I check to ensure what I need is by me. I touch my iPad screen. I scroll through the playlist from musicals that explain me: Phantom, Chicago, Miss Saigon, Cabaret, A Chorus Line. I touch the show that created me and try to sing while I paint each toenail flesh pink, my favorite color: "Deep in December, it's nice to remember, Without a hurt the heart is hollow."
I finish and lift my ponytail holder — white knitted ribbon with pink trimming — and pull my hair through the loop. I fret, as I did then. But it is secure. I apply red lipstick and pat my face and neck with Ingenue pound cake. I line my eyes. I rouge my cheeks. I reach for the powder inside my old makeup kit from that sacred day, so long ago, and my heart thrums just like it did opening night at the Louisville Palace Theatre when, fresh from college, twenty-two-year-old Bryce Maclaine made her Equity debut as Louisa in The Fantasticks, and began her career as a professional actress, playing the role of her life.
Page 1 Page 2 Page 3 Page 4 Page 5 Page 6
Paul Alan Ruben is currently enrolled in the MFA fiction program at Spalding University. To date, "The Underdog" and "Father, Son, And The Holy Obit"—from his short story collection,
Terms of Engagement: stories of the father and son
— have been published by
Pennsylvania English
(35) and
Pif Magazine
(August 2013), respectively. Paul is co-author of a college textbook,
Public Thinking/Public Speaking
, and a periodic contributor to
Audiofile Magazine
. He is also an award-winning audiobook producer/director whose numerous industry honors include two Best Spoken Word Grammy Awards. All his published short stories are recorded for audio, reviewed by
Audiofile Magazine
, and available on Paul's website:
hope-springs-external.com. Shortly after publication of "An Actress Prepares," the audio version will be recorded by the award-winning audiobook narrator, Kathleen McInerney.