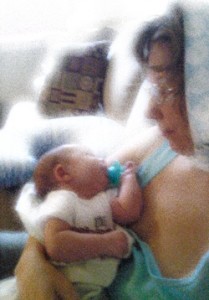 All night you dream of Rachel:
her half-fisted fingers and pimpled cheeks,
her sticky new lashes, her flannel-heavy bottom
in the crook of your arm
muttering the morning's mess.
Her mouth round as a fish's,
searching for a nipple in her sleep.
Eyes blink, ears blush,
day's first pink flush touches the room
and you, who measured the night by infant cries,
now turn to feed her
the moon, breast milk, a fleet of years,
as she feeds you
the tyranny of her sweetness.
Sarah Carleton writes, edits, plays music and home-schools her son in Tampa, Florida. Her poems have appeared in Houseboat, Burning Word Literary Journal, Avatar Review, Poetry Quarterly, The Bijou Poetry Review and Off the Coast. She has work upcoming in Cider Press Review and Shark Reef, and is an honoree for the Eleventh Annual Binnacle International Ultra-Short Competition.