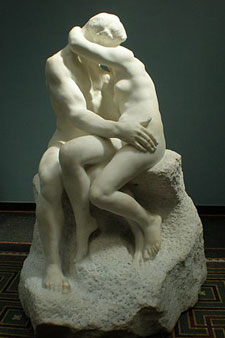 photo by Philipp Weissenbacher
"The Kiss" by Auguste Rodin in the Ny Carlsberg Glyptotek
(for Verlena Orr)
I would rather kiss
hands.
Hands have done
everything:
been cold
and burned;
caressed and braced
against a fall.
Hands are dangerous:
have become fists,
instinctively; gripped
knives in anger,
released bombs; hands
have felt pulse and pressed
desperately
against wounds.
Hands have worn paint,
grease, the pungency
of garlic, scent of fresh
sex. Hands
have been hidden
in pockets,
left awkwardly exposed.
Hands have bathed
children, lowered the dead.
Hands have scars
where they have been cut
preparing meals; have held
shovels, planted seed,
counted out change,
signed over fortunes,
condemned lives.
Hands have slammed
the door before there
could be answers,
squeezed
the gate-latch open,
touched the starter,
given the downbeat,
stopped traffic.
Hands have shaded
eyes, looking out
to sea, reached
when no one
was there.
Lips…
yes, lips, but
I would rather
kiss hands.
---
This poem came about during a workshop taught by Portland poet Verlena Orr many years ago. The prompt for one session was a small replica of the Rodin sculpture "The Kiss," but this poem went astray and focused on hands.
David Filer grew up in the low California desert but has lived in Oregon (now Portland) since 1975. He's retired from an early career teaching junior high school and then a longer one as an attorney. Now he volunteers in the local juvenile court and his neighborhood middle school. His wife, Marlene Anderson, created and directs The Imani Project, working with villagers in coastal Kenya on HIV/AIDS prevention, orphan support and related issues.