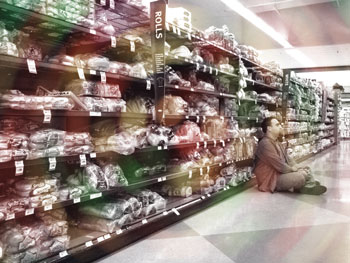 The choice seemed consequential only
a week ago — would I finally get it right? —
remember that it was whole
wheat instead of multi and what kind of fancy swirl? —
but now I could pick the wrong one and it wouldn't make any difference
at all. Except I can't
for the life of me choose the loaf I should. Not now.
So I stand in the bread aisle like a sentenced
man deciding on my last meal, and trying to keep this decision
as simple as it ought to be
while the packages trick the eye with their redundancy,
each tie twisted so tightly it would take forever to open them up,
and the Christmas carol music keeps jingjingjing-a-linging
and the hurried moms
take their loaves from the shelves and can't imagine
why someone isn't doing this for me, isn't taking care
of the chores and the meals and the million other
little things so I don't have to be out
in the middle of all this, so I can just be home
where I belong, but do not want to be,
where loss multiplies in every room,
in the thousand things that are not
touched, and the footsteps that will not come
to greet me to see if maybe this time
I finally got the bread
right.
Mark Evan Chimsky's poetry and essays have appeared in The Journal of the American Medical Association, Xanadu, Mississippi Review, The Cincinnati Judaica Review, and The Three Rivers Poetry Journal. In addition, he has received the Anna Davidson Rosenberg Award as New/Emerging Poet. As a professional editor, Mark has worked with Johnny Cash, Susie Bright, Robert Coles, and Arthur Hertzberg. He has compiled a number of nonfiction anthologies, including Creating a Life You'll Love, which received the silver in the self-help category in ForeWord's 2009 Book of the Year Awards.