Page 1 Page 2 Page 3 Page 4 Page 5 Page 6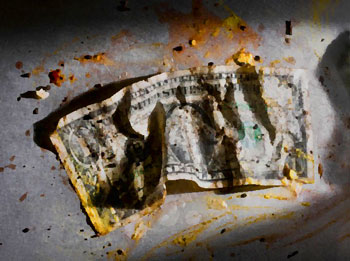 "Ten fifty-dollar bills, please, dear." The elderly woman, so short she could barely see over the counter, slid her bank card through the slot too slowly.
Teller Wyndy Elkins smiled, took her card, and expertly glided it through. Maybe Wyndy was hungry, but her mouth salivated slightly as she noted that the customer's outfit — a worn, caramel-colored cape with white fur lining. It reminded Wyndy of a cream-filled donut. The woman's face seemed familiar, though Wyndy didn't think she had waited on her before.
The account appeared on her screen. Clare Cormer. Balance: $1,674.38. Wyndy counted bills into the woman's hand. Her tapered fingertips were icy. "— five hundred. There you go. Anything else?"
"No. Thank you."
"Mrs. Cormer, has anyone instructed you in the use of our automatic banking machines? It's less time-consuming than standing in line."
"Oh, I don't mind the wait, dear. Most of the machines give out twenties. I like the fifties," she said, her voice hitting a distinctly mischievous tone which perked Wyndy's interest.
Fifties.
They were the talk of the town. Someone had been hiding fifty-dollar bills for the last few weeks. People had found them sticking out of upholstery at the dentist's office, under a rock on the beach, in the leaves of a hedgerow shrub.
Just yesterday, Wyndy had her first close encounter. She was playing peek-a-boo with her friend's toddler at the Laundromat, when she heard a shriek. Wyndy looked up to see her friend dancing a jig with a tube sock dangling from her fingers. Stuck to the sock was a fifty.
Wyndy gasped. "You got one! You'll get your picture in the paper!" It was true. Each of the lucky recipients got their picture on the front page in the upper left-hand corner.
She felt jealous and more determined than ever to find one. Even though she had a steady job at the bank and could imagine a good career stretched out in front of her, she wanted more than a solid future. She needed things now.
Wyndy's eyes followed Mrs. Cormer as she walked out the door. The woman gave a little Queen-like wave as she passed the bank's front window. Yesterday. That's where I saw her! On the street by the Laundromat. Could Mrs. Cormer be the one?
Later that day, Wyndy's hunch became a working theory. A co-worker reported seeing a fight between two women at the grocery store. "Each one said she saw the fifty first. Tucked behind a jar of strained peaches! The manager had to call security to break them up."
One coincidence is nothing; two, is definitely something. Even though Mrs. Cormer didn't exactly have a fortune in her account, Wyndy felt certain that this woman was the one playing a game of hide and seek with the whole town.
She decided to keep track of the reported findings.
The next time Mrs. Cormer showed up in the first crush of customers, Wyndy checked her list. Nine fifties had been found, amounting to $450 of the $500 she'd withdrawn.
Right on time. Coincidence three, she thought, feeling smug for having solved the mystery.
Wyndy observed her as the line inched forward. An Indian skirt puddled around the woman's ankles. She'd combined it with a fake-fur vest and bright scarf wrapped around her head.
Finally, Mrs. Cormer stood in front of her. "I'll take three-hundred dollars in fifties, please."
Wyndy pulled up her information, hungrily searching for details. Only one account. Balance: $1,049.97. No deposits in a month. After this withdrawal, she'd have less than $800.00.
Maybe her mind is going… or gone. Maybe she's eating cat food. Maybe no one knows her mental condition. Maybe she's dying.
She noted the woman's address. Benson Street.
Wyndy knew it all too well. Not exactly the neighborhood you'd expect to find the town's benefactress.
After work, she drove there. The address turned out to be a trailer on an overgrown lot at the street's dead-end. Wyndy heard it before she saw it. Dozens of bells, bird-feeders, wind chimes and other dangly doo-dads hung in the trees and on the clothes line. A rust-bucket of a car sat in the grassy driveway.
Page 1 Page 2 Page 3 Page 4 Page 5 Page 6
Nancy S.M. Waldman grew up in Texas but has been moving northward ever since. She now lives on Cape Breton Island, Nova Scotia, in Atlantic Canada. A former R.N. and artist, she writes mainstream and speculative fiction full-time, except when she's maintaining her various web sites, traveling to visit her far-flung family, or hanging out with her husband on the porch of their vividly-painted old house in the woods. She is one of the founders of Third Person Press, an independent publishing venture that nurtures and promotes regional speculative fiction. Nancy's short fiction has been published in
The Men's Breakfast
from Breton Books,
The Nashwaak Review
, and in three anthologies —
Undercurrents, Airborne
and
Unearthed
. Find out more at:
http://nancysmwaldman.com
.