Page 1 Page 2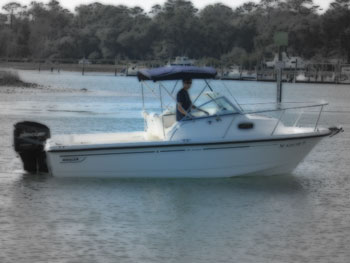 "We need to work this out," he said. He had insisted on lunch that day, even though I was short on time. I could detect the urgency in his voice. I agreed on Super Torta, tucked in a strip shopping mall where you could order and finish lunch in less than an hour. We ate our rib eye tortas in silence on the worn, purple chairs and Formica table. Beads of sweat formed on Perry's forehead as he ate, his tie tucked into the buttons of his white pressed shirt.
"Cyn, I don't want us to go on this way. You're angry all the time. I love you too much. I don't want this to go on and lead to divorce." Tears welled in his eyes. Perry never cried, he was always stoic. He looked miserable.
I put down my torta. "I don't either," I told him, feeling just as miserable. "We are mad at each other all the time. We used to have so much fun together. We need to listen to each other. We need to find a happy medium."
Something shifted between us after that lunch at Super Torta. He listened to my complaints about household chores and needing help from him. I listened to him, without anger or jealousy, about how important fishing was to him. We made a vow to carve out time for each other. On weekends, he still went fishing, but we shouldered the home duties together. He went to the grocery store with me, and I went to the hardware store with him. I drove with him to Bob Marriott's Fly Fishing store, and he browsed in Barnes & Noble with me. We both drove the boys to their hockey games or picked them up from friends' houses.
As we sat together in the car waiting for the boys or in the stands at their hockey games, our easy banter returned. We recited grocery lists, shared anecdotes about the boys that only parents can find amusing, puzzled through work issues, gossiped about acquaintances, reminisced about our college days, fantasized about future travel plans, or what we would do when the boys went off to college, or how we would spend our days in retirement. Even the most mundane tasks were more fun when we were together.
He even convinced me to go out on the boat with him. "There's a run of white sea bass in Santa Monica Bay. These fish are huge; you can get a fifty pounder," he said. "Come with me!"
All four of us went on the boat that weekend, leaving at 9 a.m. instead of 6 a.m. I took my Dramamine and braced myself while the boat powered out to sea, a cold mist spraying as we slammed against the waves. Five miles out, Perry cut the engine and Paul put in the anchor. Dense fog reduced our visibility to less than ten feet in each direction. I curled up on the cushions at the bow, wrapped my fleece jacket tightly around me. The bobbing and swaying of the boat lulled me into a half sleep. Zack laid down next to me as Perry and Paul cast out and waited. And waited. When I woke an hour later, I asked, "How much longer?"
"Just twenty more minutes and we'll leave," said Perry. By then, Paul was dozing too. I settled back down on the cushions. Then we heard Perry yell, "I got one!"
Paul was up in a flash, gaffe hook in one hand, the net in the other. Zack hovered nearby. Perry hauled in his line, the reel zinging. Then there it was, a giant white sea bass, forty-eight inches long. It was the biggest fish I had ever seen him haul out of Santa Monica Bay. Paul tried to weigh it on the Boga Grip, but it was over forty pounds. Fishermen in a boat twenty feet away came closer for a view. "It's a beaut!" they hollered. Perry beamed when the boys took turns with him posing with the giant fish on the dock when we returned to the marina.
Later that night Perry cupped my face in his hands and kissed me. "That was the best day ever, because you were there with me."
* * *
Flytime had sat idle for six years now. The first year after his heart attack, we took it out in the marina. Perry caressed the hull when he first saw the boat, but once in the water, it was up to Paul to start up the engine, maneuver it out of the slip and through the channels. We motored in the marina only, keeping the no-wake speed of eight knots. We didn't feel emboldened enough to go past the breakwater to open sea. Perry sat on the bow smiling but gave no indication he knew how to steer the boat, work the knots on the cleats, manage the bumpers, or lift the skeg on the motor. He stared at his fishing poles and reels with a blank expression. It was too painful to watch.
And yet, I could not face giving up this boat that was so dear to Perry's heart. I knew I couldn't summon the energy to learn how to start the engine or steer it into the slip, much less take it out into the open ocean. I had too much to keep track of already with work and Perry's caregiving, therapies, and doctors. For several years I put out feelers for someone to take him out on his boat but never found anyone who was experienced with boating and brain injury.
I could see the distress on Paul's face when I asked if he wanted to take his father out. Paul's interest in fishing died after the brain injury, and the boat was a constant reminder of the special time they spent together. Manny gave up fishing entirely for two years after Perry's heart attack. For all of us, letting go of this boat meant that we were giving up somehow, acknowledging that Perry would never come back.
* * *
"If Paul is free this Saturday, I can help him clean out the boat. We'll wash out all the dirt, get new tarps for it. My friend said he will help you find a boat broker," said Manny.
I inhaled a deep breath. I knew this was Manny's way of telling me it was time to let go. I slowly exhaled and found my voice again. The last vestige of the old Perry was becoming untethered, ready to drift away.
"Thank you, Manny," I said.
* * *
Later that year, after Paul and Manny cleaned out the dirt and fixed a new tarp over the top, my brother-in-law Ernie offered to help us sell the boat. He drove his truck from Salinas so he could hitch up the boat and trailer to drive back to central California. He had thought of everything: spare tires for the trailer in case they were flat, extra wires to hook up brake lights and blinkers, even a license plate with a current registration sticker because I couldn't find ours. I choked back tears as he drove out of the dock parking lot, but Perry stood unfazed, watching silently.
A few weeks later I felt relieved and grateful when my nephew reported that they sold the boat to a young man in his twenties who loved to fish.
Flytime had a new home.
Page 1 Page 2
Pages: 1 2
Cynthia Lim lives in Los Angeles, California, with her husband and is working on a memoir about her husband's brain injury. Her essays have appeared or are forthcoming in The Legendary, Hawai'i Pacific Review, Rougarou: An Online Literary Journal, and Kaleidoscope: Exploring the Experience of Disability through Literature and the Fine Arts. In addition to care giving, she crunches numbers for the Los Angeles Unified School District.