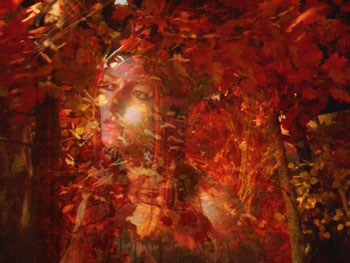 Recycled Woman arrives along with all the seasons
Arrives with freshness and the beauty of spring
Arrives with the old, yellow leaves in autumn
Arrives in the season of ice and freezing rain
She's present everywhere
Along the dirt roads
Along the plains
In the forgotten houses
Between the lines of Gathas*
Across the fire temples
In the temples, mosques, churches
With frozen dreams
Recycled Woman knows that life is like
The morning dew sitting on the green leaves
So brief, so fragile
She learned that everywhere far or near
In the troubled roads of Harlem
Next to the green beauty of Tamalpais
From the blue domes in the city of Isfahan
To the plains of Africa,
There's a need to gather
The broken pieces of love scattered around.
*The Gathas are 17 hymns believed to have been composed by Zarathusthra (Zoroaster) himself. They are the most sacred texts of the Zoroastrian faith.
Mahnaz Badihian is a poet, painter and translator whose work has been published into several languages worldwide. Her work has appeared in many literary magazines including
Exiled ink!
in the United Kingdom,
International
poetry magazine and in
Marin Poetry Center Anthology
, amongst others. Currently she resides in Northern California, where she runs an online multilingual literary magazine,
MahMag.org
, in an effort to bring the poetry of the world together. She finished translation of a book called
Spaldings Arise
, which will be published in 2012-2013. She received her MFA in poetry from Pacific University. She is currently working on a collection called
Recycled Woman
, which will be published in 2013.She is a member of RPB (Revolutionary Poet Brigade) of San Francisco.