Page 1 Page 2 Page 3 Page 4 Page 5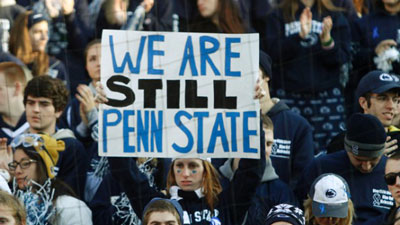 I was sitting at Whiskers when the verdict was returned. Whiskers is a neat little pub off the lobby of the Nittany Lion Inn, the historic, colonial-style hotel on the campus of Penn State University, seemingly the place to be if you didn't want to deal with the crowds of onlookers at the real place to be – the Centre County Courthouse, ten miles to the northeast in the little town of Bellefonte.
Thirty minutes before, I had asked the bartender for my check. It was 9:30, and I had a solid half-hour walk back to my apartment on the south side of town. For the second day in a row, it seemed the jury was going to adjourn for the night without a decision, leaving all of us – visitors, residents, students, faculty members, university employees; for that matter anyone, anywhere, associated with the university (the school boasts the largest alumni association in the world) – in suspense.
The night before, I was at a baseball game. The Spikes are a minor league team that plays for State College, the charming little town that adjoins the campus and where I spend my summers. Their ballpark sits in the shadow of Beaver Stadium, second largest stadium in the country and home of the Penn State Nittany Lions, a storied football program whose legendary head coach of 46 years, Joseph Vincent Paterno, had died just months earlier, some said of a broken heart. Unceremoniously dumped by the university's board of trustees in the wake of the scandal (a representative called him at his home late one evening to inform him that, "the board has terminated you, effective immediately"), Paterno passed away from lung cancer eleven weeks later.
By the time of the first pitch, the jury had been deliberating for over five hours. The prosecution's case had included eight young men who had come forward to testify that they had been sexually abused, some of them over the course of years, by the monster that had been the Nittany Lions' once revered defensive coordinator, architect of defenses that had won championships and earned the school the nickname of Linebacker U. An assistant coach also testified to what he saw in a shower late one night at the Lasch Football Building on campus, and there was even more witness testimony from a school janitor. The collective testimony was horrifying, unspeakable; except that now it had been spoken. Bits and pieces of it would have been sufficient. In concert, it was persuasive and damning. Open and shut. I anticipated the jury would be out a few hours at most.
At the baseball game, I'd become one of those people I usually complain about; I was pulling my cell phone out of my pocket every five minutes and checking it. Around the fourth inning I noticed others doing the same. We were all checking the news. Surely the verdict would be delivered soon. I wondered if they'd make an announcement at the ballpark over the public address system.
But the evening had come and gone with no verdict. By the seventh inning, they were reporting online that the jury had retired for the evening. After the game, I walked home disheartened. Why was it taking so long to determine this man's obvious guilt? Sure, there were 48 counts of child sex abuse to sift through, but it still didn't occur to me that it could take more than a few hours. The O.J. trial came into my mind. Casey Anthony. A surprise "not guilty" verdict was not without notorious precedent.
The stakes were high. The university, the town of State College, all of central Pennsylvania needed a guilty verdict. So did anyone who called him or herself a Penn State graduate. There was a perception, seemingly nationwide, that because a few people in high places had ignored (in the best case), or covered up (in the worst), crimes as heinous as those being deliberated in that Centre County Courthouse jury room, anyone associated with the school also bore some measure of responsibility. Guilt by association – an irrational leap, of course, but there it was nonetheless. A verdict of guilty for the actual perpetrator would help change that. It would make a statement that we don't abide child sex abuse and that we don't care who's accused of it or what association he may have had with the school. A not-guilty verdict – more and more of a real possibility in my mind as I cut through campus on my way home after the game – would confirm the opposite and reinforce some of the recent descriptions of Penn State from without: an incestuous enclave in the remote hills of central Pennsylvania, circling its wagons from the outside world, and even from justice, in the name of football and tradition.
On a personal level, the stakes were just as high. A not-guilty verdict would have suggested to me that maybe those voices from without were, at least to some extent, right. What kind of place was this, after all? How much did I know about it, really? I imagined that what I was beginning to feel was akin to what someone must feel who starts to suspect that his or her spouse is cheating. I was beginning to feel betrayed by the place that I had loved so dearly, first as a student and now as a visiting alum, spending my summers amid the sylvan campus's tall shady elm trees and old fieldstone and brick, ivy-covered classroom buildings. But it was now different somehow. It was as though I was a stranger, and as I walked under the elms that night, they seemed gloomy and haunting, distant and vaguely threatening, taking unfamiliar shapes against the dark. Nothing was recognizable. How, I began to wonder, could I stay in this place for the remainder of the summer? I felt cynical, morose.
Page 1 Page 2 Page 3 Page 4 Page 5
Since earning his undergraduate degree from Penn State, G.S. Payne has devoted his energies toward the study of his true passion: creative non-fiction. Now living on the Gulf Coast of Florida, Payne works predominantly as a ghostwriter, specializing in narrative non-fiction, memoir, and prescriptive business books. His clients have included captains of industry, athletes, and people whose lives nobody would believe, had he not been there to document them. When not toiling in relative (and welcome) anonymity with his clients' work, or enjoying the State College summers, he spends his time on Pilar, his sailboat, and splitting his days between Clearwater and Key West, paying homage when at the latter to his hero, Ernest Hemingway, by drinking in the same bars in which Papa himself drank.