Page 1 Page 2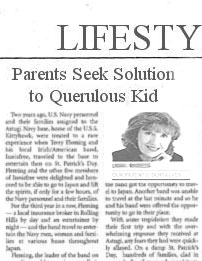 Dear Addie,
I must confess, my husband Bill and I are not regular readers of your column, but we hope you won't hold it against us. A good friend of ours said that if anyone can help us, it's you, so here goes:
Our eleven-year-old son Toby will not stop asking questions. From the moment he opens his eyes in the morning 'til he reluctantly closes them at night, it never ends.
And I mean that literally. Just today, when I woke him for school, the first words out of his mouth were, "Mom, where is sleep?"
"What do you mean, honey?" I asked him.
"When you go to sleep, where do you go?"
It doesn't work to tell him something is only a figure of speech; I've tried. He asks me what shape the figure is. "You go to Dreamland," I said, using a term I hadn't used since he was a five-year-old.
"Then where do you go if you don't dream?"
"You always dream," I said. "You just don't always remember it."
"If you don't remember it, how do you know you dreamed?"
At this point, I told him he was going to be late for school if he didn't get up right now, brush his teeth, and come down to breakfast.
He's actually a very good child who does what we say most of the time without complaint. This habit of always asking questions has only recently surfaced.
As I poured his orange juice for him, he asked me, "What word rhymes with 'orange'?"
"There isn't one," I said.
He considered it. "Then why didn't anyone ever make one up?"
"Maybe they never got around to it," I said. I'm frequently reduced to answers like that. It's very frustrating.
"How do we know somebody didn't make one up, but then he couldn't remember it, like what you said about dreams?"
I kept my voice steady so he wouldn't see how annoyed he was getting me. "You're not making sense," I told him evenly.
"What's sense made of?" he asked.
As far as Bill and I can figure out, it must have started with his sixth-grade teacher, Ms. Hennessy, and the special lesson she gave about inquisitive thinking. Instead of a test on the Spanish explorers, she had the class write ten questions about the chapter they'd read. Most of the kids wrote things like, "Where was Cortez born?" and "When did he claim the Yucatan Peninsula for Spain?"
Not our son. Here are some of his questions: "Why do we call him Hernando Cortez, when his real name was Hernán Cortés?" "If the Aztecs couldn't read or write, how did they know how to spell Montezuma?" And, "Why did the Aztecs think Cortez was a god if he couldn't even understand their language and needed a translator?"
Evidently, Ms. Hennessy admired his originality enough to give him an A. I think that was a mistake, and, now that we've seen the result, so does she.
She has spoken to him about it; I'll give her that. He's stopped raising his hand in class every ten seconds, but that's only because he wants to do well in school. Like I said, he's really a good kid. Now, he just saves it all up for his father and me.
Page 1 Page 2
Pages: 1 2
Lenny Levine attended Brooklyn College, graduating in 1962 with a B.A. in Speech and Theater. Immediately thereafter, he forgot about all of that and became a folk singer, then a folk-rock singer and songwriter, and finally a studio singer and composer of many successful jingles, including McDonald's, Lipton Tea, and Jeep. He's composed songs and sung backup for Billy Joel, Neil Diamond, Peggy Lee, Diana Ross, Barry Manilow, the Pointer Sisters, Carly Simon, and others. In addition, he performed for a number of years with the improvisational comedy group War Babies. His work has appeared or is forthcoming in Amarillo Bay, Cairn, The Dirty Goat, Diverse Voices Quarterly, Eleven Eleven, The Griffin, The Jabberwock Review, RiverSedge, Verdad, and Westview. He received a 2011 Pushcart Prize nomination for short fiction.