Page 1 Page 2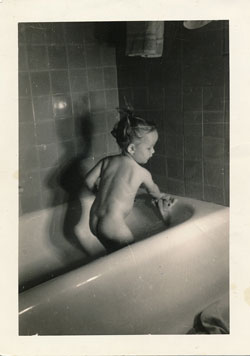 The photo jumps out at me from the pile of vintage photos that wind a trail back through my family on my mother's side. I recognize the image and the person in it. I've seen another copy of the photo, framed, hanging on the walls of two different bathrooms in two of the houses my mother has lived in over the past ten years. I know the black-and-white toddler is Mom. She's standing naked in a bathtub with her backside to the camera. Her head is turned to the right and slightly cocked over her shoulder. She wipes the edge of the tub with a rag. It looks like all the water has been drained away, or perhaps she's getting ready and the bathtub hasn't filled yet.
I can tell who it is because I know that tailbone: the delta funnels down from two dimples on the hips into the crack I know is my mother's bottom. Those shapes have been there for over seventy years. I saw the exact same pattern of points and triangle pressed into flesh the other day, only bigger, when Mom lifted her shirt, then lowered her waistband, to show us how well she was healing. Two weeks before she had undergone an operation to treat spondylolisthesis: a lower vertebra had shifted and was pinching the nerves.
"The pain had become unbearable," she said.
The surgeon made a six-inch incision to expose her spine, first tackling the nerves that had wound round each other — "it was a mess in there," Mom said — like an electrician untangling a rat's nest of wires. Then he removed a piece of bone from the good part of her back, and transplanted it to the problem vertebra. Bone on bone will weave itself together, fusing over time. He finished up by inserting two brackets and two screws to hold it together, then pulled the flaps of skin back into place and glued them.
"Glued?" I ask. "Really?"
"Yup, my spine is glued in there. That's why I have to wear this corset."
She shows me a wide black elastic band that wraps around her middle and fastens with Velcro.
"When your Aunt Marcy saw this thing, she said: 'Don't take off your black girdle or your spine will jump out and wriggle around on the kitchen floor!'"
Aunt Marcy, Mom's sister, came two days after the surgery to help things along in the early days of recovery.
"Gotta keep that spine in there! Don't let it escape!"
But it seems it had already escaped, long ago, leaping out of that little girl and slithering across the floor into this back I'm seeing now. The red-sliced backside Mom's flashing before us is the spitting image of the tailbone in the picture.
"I can't believe how well it's healing," I say. "Not even any swelling."
I give her a careful hug, head to the bathroom to pee. There's the same framed water nymph again, on the wall by the sink, next to the door. It used to be above the toilet in the bathroom Mom and Gill shared in their house in Park Hill. I remember wondering why it was there, starting to ask about it then, eventually deciding not to for some reason I couldn't grasp at the moment.
Page 1 Page 2
Pages: 1 2
Lynne Huffer is professor of Women's, Gender, and Sexuality Studies at Emory University, with a Ph.D. in French Literature. She is the author of four books, and her work has appeared or is forthcoming in Blue Lake Review, Cadillac Cicatrix, Dos Passos Review, Eleven Eleven, Passager, The Rambler, Rio Grande Review, Southern California Review, Sou'wester, and Talking River Review.