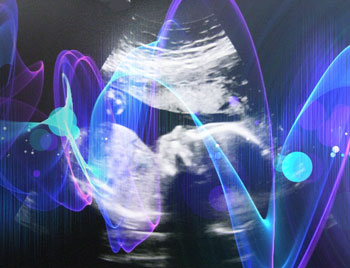 (a psalm of anticipation)
Raise your legs, then let them fall
again and again as though you knew
turning over is just a twist
and roll away. Do you remember
somersaults in the warm recesses
of the womb, suspended weightless
like an astronaut on his tether?
Sometimes you kick for long minutes
without stopping, now as then, though
the sensation is lost to me except
in the dreams I visit between feedings.
A few warm days and suddenly
the icebound troughs of winter
are as implausible as pregnancy.
The birches go first, and the willows
a haze of green and gold
on the verge of bursting free,
a new world already almost here.
Rachel Barenblat's first book-length collection of poems, 70 faces, a collection of poems written in response to Torah, was published by Phoenicia Publishing in 2011. She is also the author of four chapbooks of poetry, and her poems have appeared in a variety of magazines and anthologies, among them Phoebe, The Jewish Women's Literary Annual, and The New Orleans Review. She holds an MFA from the Bennington Writing Seminars and was ordained as a rabbi by ALEPH: the Alliance for Jewish Renewal. Today she serves a small congregation in North Adams. In her spare time she's a contributing editor for Zeek, a Jewish journal of thought and culture. She lives in western Massachusetts with her husband and their son.