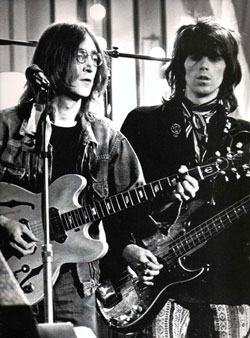 (based on Keith Richards' memoir, "Life)"
A silly sod in many ways,
John was. I liked to tease
him for the way he wore
his Fender high, under his
chin. "Try a longer strap,
John, for Christ's sake;
it's not a violin. No wonder
you lugs only rock,
can't roll." But they thought
it was cool. Maybe you
had to be from Liverpool.
He wasn't one to mince
opinions; said my "It's All
Over Now" solo sucked,
and he was right.
He was my mate.
Hilary Sideris has Keith Richards poems in Acoustic Levitation, Houseboat, Manila Envelope, Spinozablue, and Yes, Poetry. Her new chapbook, Sweet Flag, is now available from Finishing Line Press. She lives in Kensington, Brooklyn, and develops programs for first-generation college students at The City University of New York.