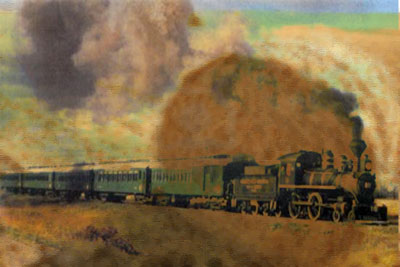 (for Paul "Wolf" Larsen)
Born in a town where dogs were mongrels
milk cows were skinny-uddered slaughter-house
cattle, and farmers scratched out survival
on gully-rigged farms best-suited for cattle grass,
Coyotes, Russian Thistle and Prairie Dogs,
farms where I stacked bales in haymows
of airless barns, town where at Sunday Church
I sat beside auburn-haired Shirley Franzen with skin
so white and lips so red, I gave myself frequently
to the Jesus of her fevered faith, even though I believed
mostly in my father's faith in his own two hands.
At sixteen I believed in football, girls and
people as true to habit as to love itself,
all of us fed by the purity of artesian water
pouring into the "Big Sandy River," spring water
filling the blackened Steam Engines of Union Pacific
Freight trains, smoke stacks billowing great white
clouds of expectation out into blank blue skies running
high over grazing cattle, smooth-hipped horses
standing close, nickering into a vast prairie silence.
Sometimes I'd put my ear to the rail
trying to hear before I could see a train…
sometimes I'd balance walk a rail all the way
to the curve round Busing's pasture —
a quarter mile without stepping off — "Big Sandy River"
on one side of me and Levi Landkammar's haystacks
on the other, as though innocence was earned
in that place where perseverance smoothed
the imperatives of everyday existence —
protection from darkness within and without.
As an athlete, English Teacher, lover of music, father, husband and citizen of the world, Larsen Bowker finds the themes and ambiguities which flourish in his poems. He is particularly grateful to magazines like Wild Violet, who offer him a place where his love of poetry finds a place where his words find a larger audience. In the illustrations that accompany their poems, readers find a way to take more from the poem than they would otherwise. He has had poems appear recently in Atlanta Review, Coal City Review, and Common Ground Review. His seventh book of poems, Elegiac Dialogues, came out in 2017.