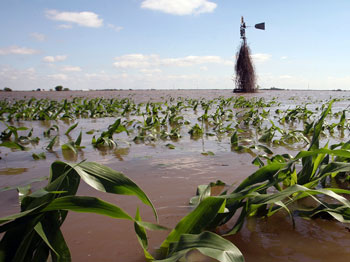 beginning with a line from Li-Young-Lee
The first sky is inside you—
first wind and wing:
coral lightning, prayer stalk,
chunks that glut the prairie.
Corn tufts, soy shoots, shifting
drifts of blaze/glazed
river, glad ground cut
to sheaths by water.
Loam of too-much-thinking,
loam of approaching sea, runnels
stuffed with it, lucky sky
upended—all of it throbbing.
Laurie Sewall's recent work can be found in Folio, Hawai'i Pacific Review, Hayden's Ferry Review, Peregrine, The Pinch, Poet Lore, Salamander, and Soundings East, among other publications. Her poetry was selected as a finalist in the Atlanta Review 2011 International Poetry Contest. She has an MFA in Poetry from New England College and an MA in Counseling Psychology from Lesley University. After living in New England for many years, she now resides in rural Iowa, where she writes and teaches poetry. "Waterborne" was inspired by the surreal sight of miles upon miles of Iowa prairie and crop fields buried — still breathing — under an enormous blanket of water, after torrential rains and the flooding of the Iowa River.