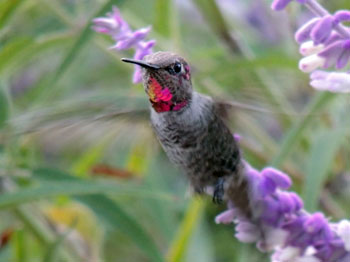 photo by R.S. Carlson

( — Had Emily D had digital zoom –)
Hope is the thing with feathers
at flowers in soft sun –
that shares swift flares of fine-lined wings
till fast-series files are done –
and waits till after battery change
to pose for zoomed-in-large –
and stays in auto-focus range
till detail is assured –
and moves from blocking stems and leaves
for foregrounds crisp and clear –
and offers glints of beak and eyes
instead of murky blur –
and holds in best position
for lens to zoom a scene
to ideal composition
for at least one photo frame!
R. S. Carlson, a previous contributor to Wild Violet, teaches literature, linguistics, and writing at Azusa Pacific University, Azusa, California. His poems have appeared in The Texas Review; Birmingham Poetry Review; Poet Lore; The Cape Rock; Genre; The Hawai'i Review; Sunstone; War, Literature and the Arts; Viet Nam War Generation Journal; Colere; Rockhurst Review, Slake, and other literary magazines, print and online. His poetry collection, Waiting to Say Amen, is available from Lulu.com in downloadable ebook or print editions.