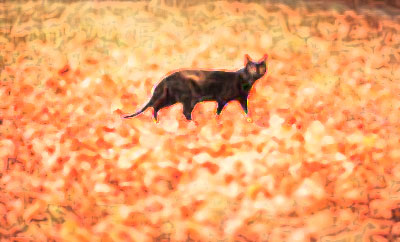 Today in Virginia, unseasonably cold,
high only in the mid 30's.
I think of a night drive from Austerlitz
an hour north to bring in my plants, early September.
The sky tangerine, guava and teal.
My own house strangely quiet, my
cat at my mother's.
When I think of a night I drove from Austerlitz
to bring in the plants, my mother young enough
to swoop up suitcases, my cat,
I was looking for someone. "Aren't you glad you
still have me?" my mother purred. The cat I
got after that one, now going on 21,
the ice yesterday a warning.
I was looking for someone. Each time I
left my mother's rooms, drove thru
Vermont leaves there was an ache becoming myself.
When the wind tore thru yesterday, on the stairs, a
shape that looked like lint with claws.
Later I tucked the geraniums in quilts
like putting a child under flannel or leaves
That ache, a wind under my hair
My mother tucked in the earth.
The headless fur shape with its pink claws
or feet, on its back, a mystery.
Today in Virginia, unseasonably cold
Lyn Lifshin has published over 130 books and chapbooks including three from Black Sparrow Press: Cold Comfort, Before It's Light and Another Woman Who Looks Like Me. Before Secretariat: The Red Freak, The Miracle, Lifshin published her prize-winning book about the short-lived beautiful race horse Ruffian, The Licorice Daughter: My Year With Ruffian and Barbaro: Beyond Brokenness. Recent books include Ballroom, All the Poets Who Have Touched Me, Living and Dead. All True, Especially The Lies, Light At the End: The Jesus Poems, Katrina, Mirrors, Persphone, Lost In The Fog, Knife Edge & Absinthe: The Tango Poems . NYQ books published A Girl Goes into The Woods. Also just out: For the Roses, poems after Joni Mitchell and Hitchcock Hotel from Danse Macabre; Secretariat: The Red Freak, The Miracle and Tangled as the Alphabet,-- The Istanbul Poems from NightBallet Press. Just released, as well, Malala, the DVD of Lyn Lifshin: Not Made of Glass. The Marilyn Poems was just released from Rubber Boots Press. An update to her Gale Research Autobiography is out: Lips, Blues, Blue Lace: On The Outside. Also just out is a DVD of the documentary film about her: Lyn Lifshin: Not Made Of Glass. Just out: Femme Eterna and Moving Through Stained Glass: the Maple Poems. Forthcoming: Degas Little Dancer and Winter Poems from Kind of a Hurricane press, Poems and Paintings from Tangerine press and The Silk Road from Night Ballet, Ice Maiden from Transcendent Zero Press