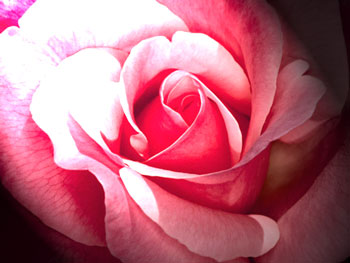 I didn't know my mother loved pink roses
Until the day I ordered floral arrangements for her funeral Mass
She didn't seem to care much for flowers as a young mother
She never received flowers from my father, who tended our special rose gardens each summer
I thought she considered bouquets a frivolous purchase
Maybe she thought flowers flourished best in their natural habitat
My mother grew up with a father whose passion was gardening
Flowers, most of whose names I never learned, framed the backdrop of my childhood summers
But pink roses? I had to discover an intimate slice of my mother's life from a neighborhood store owner?
I recall the woman at the florist exclaiming, "oh yes, she always asked for pink roses when ordering arrangements for anniversaries and birthdays"
Pink roses do resemble my mother — subtle, sweet flowers from the regal rose family
She once gave me a gorgeous oil painting when I moved to a new apartment in New York
Excitedly took it from her bedroom wall and presented my first and only housewarming gift
She said "it's by A Celli, look him up on your computer — it must be valuable — it's dated 1930"
I've looked at that artwork every morning for nearly five years
And only now realized the perky flowers in the silver bowl are pink roses
She left us one overcast morning in late September
She was weak
No longer brimming with joy for life after confined to her home for too long
I took all her worldly possessions for granted
So many of them remnants of our life back in the family home on Pennsylvania Avenue
Only now I see pink roses on the Limoges vanity set on her dresser
Pink roses on a German vase in the powder room
Pink roses on the edges of an unusual condiment holder hidden away in the dining buffet
Pink roses on a nick-less decorative plate
On Memorial Day, as I crossed West Side Highway to get to my gym
I was met by bush upon bush of pink roses that danced in the breeze
On my last birthday, a close friend sent me a card, the first card of the special day
Sparkles outlined large pedals of pink roses
I now believe my mother speaks to me in pink roses
What else did she love that I don't know?
Will they remain secrets that rest in her heart?
Amy Barone is the author of the poetry chapbook Views from the Driveway from Foothills Publishing. Her poetry has appeared in Wild Violet, Philadelphia Poets, Avanti Popolo, and Gradiva, among other journals. A native of Bryn Mawr, Pennsylvania, she lives in New York City where she works as a business writer. She spent five years as an Italian correspondent in Milan for Women's Wear Daily and Advertising Age. She serves as board member of the Italian American Writers Association and participates regularly in their monthly readings at Cornelia Street Café in New York City.