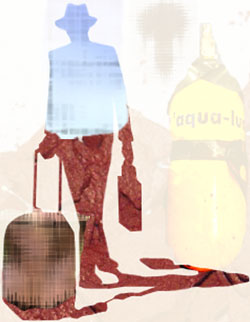 A salesman going door to door,
selling bottled rain and sniffed fingers,
selling angel-scented handkerchiefs.
A salesman in an ill-fitting suit,
selling love-powder and paper aqualungs.
Broken manhole covers. A dent in a bucket.
Bio-degradable motion detectors.
The uninvited, leaning on your front door's bell,
hauling a black satchel, carrying snake-hips
and vapourous handles. Hair dye for the dead.
A swastika of smoking ashes.
Who's selling two absolutes for a dollar,
the semi-divine, and storm windows too –
lest yon tempest offend thee.
Originally from Niagara Falls, Canadian-born Bruce McRae is a musician who has spent much of his life in London and British Columbia. He has been published in hundreds of periodicals. His first book,
The So-Called Sonnets
, is available from the
Silenced Press website
or via Amazon books. His second,
An Unbecoming Fit Of Frenzy,
is to be made available later in 2012. To hear his music and view more poems visit his website:
www.bpmcrae.com
.