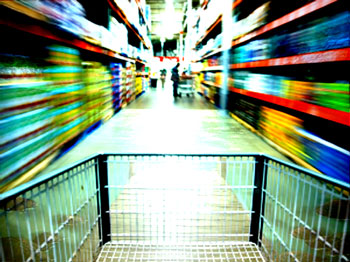 A nickel's worth of starshine please,
porter, and make it snappy
A pound of roses for m'lady's hair.
A half-case of chewed-over indecision.
I prefer shopping via wistful teleportation.
I like it when the stores are closed,
the window-dresser in the arms of dreaming,
the security guard asleep in his chair.
It's midnight, ghost-shoppers
pressing their faces up against the glass,
in the thrall of wish-fulfillment.
Need and want fight it out in aisle nine.
The spirit of greed is rifling the coffers;
the least predictable of bargain-hunters.
Here's a toy for your unborn children.
Warm your hands by this burning dollar
while I fetch us an electric stick,
plastic water, a disposable mountain vista.
I've bought us the invisible-made-visible,
a hatful of trouble, some skin for your flint;
the prices written in ancient Sanskrit.
On sale is something, I don't know what,
what it does or is —
but I must have it.
Pushcart nominee Bruce McRae is a Canadian musician with over 900 poems published around the world, including Poetry.com and The North American Review. His first book, 'The So-Called Sonnets', is available via Silenced Press and Amazon. To see and hear more poems go to 'BruceMcRaePoetry' on YouTube.