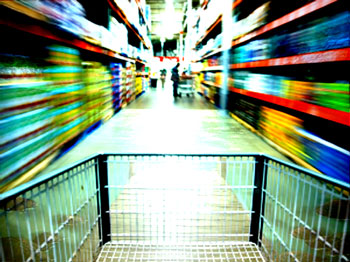 A nickel's worth of starshine please,
porter, and make it snappy
A pound of roses for m'lady's hair.
A half-case of chewed-over indecision.
I prefer shopping via wistful teleportation.
I like it when the stores are closed,
the window-dresser in the arms of dreaming,
the security guard asleep in his chair.
It's midnight, ghost-shoppers
pressing their faces up against the glass,
in the thrall of wish-fulfillment.
Need and want fight it out in aisle nine.
The spirit of greed is rifling the coffers;
the least predictable of bargain-hunters.
Here's a toy for your unborn children.
Warm your hands by this burning dollar
while I fetch us an electric stick,
plastic water, a disposable mountain vista.
I've bought us the invisible-made-visible,
a hatful of trouble, some skin for your flint;
the prices written in ancient Sanskrit.
On sale is something, I don't know what,
what it does or is —
but I must have it.
Originally from Niagara Falls, Canadian-born Bruce McRae is a musician who has spent much of his life in London and British Columbia. He has been published in hundreds of periodicals. His first book,
The So-Called Sonnets
, is available from the
Silenced Press website
or via Amazon books. His second,
An Unbecoming Fit Of Frenzy,
is to be made available later in 2012. To hear his music and view more poems visit his website:
www.bpmcrae.com
.