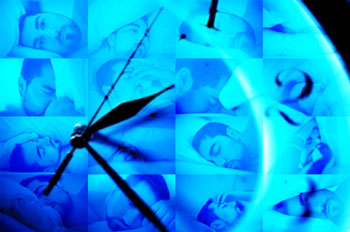 Most people go to sleep at night.
My insomnia screams like a leaf-blower
of blinding blizzard hiding in the Siberian
cupboard's rattling snowplow. It grabs
my keys then races along the freeway
in a retro shoot 'um up Western then
shouts a loud bugaloo down Broadway
using lip-liner sirens. It's made of steel
tacks mixed in the nine inch nails and
rattles every ordinary tin roof scattering
fluffy pillow feathers. It has no smitten
eye piece but a starry sledge hammer
of acid rock amplifier plugged into my
tumbling dice. And when it really gets
angry it smashes my glasses of warm
milk against the four-poster bed tsunami
over and over again until I'm forced to
get up from the lazy-boy recliner and
stagger to the bathroom mirror where
a face stares back at me with eyes
that dangle down from their dark circled
sockets like earrings the shape of kiwi fruit.
After almost a decade of working as a freelance photographer in Europe, Maurice Oliver returned to America in 1990. Then, in 1995, he made a life-long dream reality by traveling around the world for eight months. But instead of taking pictures, he recorded the experience in a journal which eventually became poems. And so began his desire to be a poet. His poetry has appeared in numerous national and international publications and literary websites including
Potomac Journal, Pebble Lake Review, Frigg Magazine, Dandelion Magazine
(Canada),
Stride Magazine
(UK),
Cha Asian Literary Journal
(Hong Kong),
Kritya
(India),
Blueprint Review
(Germany) and
Arabesques Review
(Algeria). His forth chapbook was
One Remedy Is Travel
(Origami Condom, 2007). He edits the literary ezine
Eye Socket Journal
. He lives in Portland, Oregon, where he works as a private tutor.