Page 1 Page 2 Page 3 Page 4 Page 5 Page 6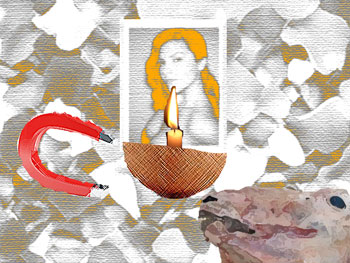 We drive to my house. My mother is playing bingo tonight. Since my father's death several years ago, her life has taken on new purpose. She is happier and less interested in me.
After dinner, Celeste and I go down to the basement to create my shrine. I chose a space near the boiler, where my dusty, forgotten exercise bike is stored. Next to it I have set up a card table; my high school yearbook picture sits in a brass frame.
Celeste has carried down two grocery bags. Inside the first one is a coconut shell, candle string, olive oil, a magnet, honey, maple syrup, a bag of sugar, and assorted flower petals. I have placed the capozel in a small beach cooler filled with ice. The two of us attempt an artful still life arrangement of the objects. When Celeste is happy with the results, she examines my framed photo.
"This is the picture you're gonna use? You look like a prissy old maid," she says, grimacing.
Celeste is right. The picture is unflattering; my hair is short, and I did not have on enough makeup. "Well, I don't have anything else. My most recent pictures are with Frank, but I deleted them."
Celeste picks up the other bag and pulls out a Polaroid camera. She pats the camera and says, "Girl, we are having ourselves a photo shoot with this dinosaur. I stole it from my ex-boyfriend; I even have the film you need for it. He liked it better than a digital camera because it turned him on to watch our naked bodies slowly appear on the paper. Personally, I think he was only looking at the size of his favorite body part change as the picture developed." From her bag of tricks she takes out a black lace corset, bikini panties, and black high-heeled shoes. There is a portable CD player.
Eyeing the flimsy underwear, probably selected from the Victoria's Secret clearance rack, I object. "I don't think so, Celeste; Kip wouldn't like cheap lingerie."
"Believe me, Marie, all men like cheap lingerie." I give in to Celeste and change in the laundry room. Music is playing on her CD player. I hear Patti LaBelle singing, "Voulez-vous coucher avec moi ce soir? Voulez-vous coucher avec moi?" When I come out, Celeste jumps up and down and says, "Look at you, you skinny thing!" She tells me to dance; ritual dancing is important in voodoo, and it will help create the right mood for my picture. I walk unsteadily in the high heels; my breasts don't fill out the corset, causing it to slide farther down my torso.
"You look hot, Marie. Take off the glasses and stop hunching your shoulders." The music is loud, bouncing off the basement insulation. "Itchi gitchi ya ya da da, itchi gitchi ya ya here! Mocha-choca-lata ya ya Creole Lady Marmalade!" Celeste and I are facing one another. She tells me to loosen up and watch her. Arms thrown over her head, Celeste squats lower and lower while moving her hips and backside in a fast, staccato shimmy. I try to copy her moves, but my arms, legs, and butt don't synchronize. I lose my balance and turn my ankle, crashing into the exercise bike. Celeste steadies me, grips my hand, and commands me to walk with attitude in time to the music.
"Pretend you're a model on a catwalk. Swing your hips and move your arms, relax, and, for Christ's sake, shake that little ass like you want it!"
I am starting to get it and strut around the basement, while Celeste takes the first picture, then two, three, and more. She tosses them on the floor; they are in different stages of development. Celeste continues dancing; she writhes up and down one of the basement support poles, ripping a seam in her pants. We are both screaming the lyrics in unison. The music stops and Celeste embraces me.
"I'm proud of you, girl. Let's look at the pictures." Out of the bunch I pick one that shows mostly my face and neck. Celeste thinks I should use a picture that showcases my body, but I stand firm. We replace my graduation picture with the Polaroid and light the charm lamp.
* * *
Page 1 Page 2 Page 3 Page 4 Page 5 Page 6
Michele A. Hromada is a special education teacher and educational evaluator. Her hobbies include reading, traveling and listening to classic rock and jazz music. Short fiction is something she loves and has been working on throughout her life. She lives on the Lloyd Neck peninsula on the North Shore of Long Island with her husband, son and her Jack Russell terrier. Her work has appeared or is forthcoming in Diverse Voices Quarterly, Forge and Sanskrit. She is a regular contributor to Lloyd Harbor Life, writing restaurant reviews and general interest articles.