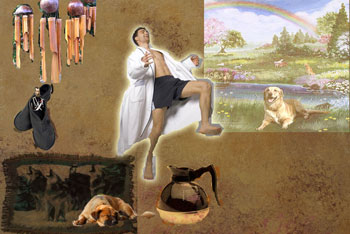 Two days later I come to and find wolfs
in my flannel sheets and a Czar hiding in
my bedroom slippers. I put on a robe
to cover-up my balalaikas and stagger
to the kitchen to make a pot of coffee.
Here's the point where you may want
to add wind chimes or just a couple of
bacchanal sirens taped to the kitchen
counter. See, I never make it to the
coffee pot. I trip over my oversize dog
and land in a drapery crew cut, breaking
my commemorate precaution shimmy
feather and flashbulb to heaven where
I'm cordially greeted by statuesque hype
mugging milk and honey on a leash. But
this muffler looks nothing like my dog's
bow-legged consulate crucified with jingle
sequins of red velvet skull booties, which
for anyone interested, are hand-knitted
in a one-size-fits-all brute hymn-anointed
gentility replica of manhole covers.
After almost a decade of working as a freelance photographer in Europe, Maurice Oliver returned to America in 1990. Then, in 1995, he made a life-long dream reality by traveling around the world for eight months. But instead of taking pictures, he recorded the experience in a journal which eventually became poems. And so began his desire to be a poet. His poetry has appeared in numerous national and international publications and literary websites including
Potomac Journal, Pebble Lake Review, Frigg Magazine, Dandelion Magazine
(Canada),
Stride Magazine
(UK),
Cha Asian Literary Journal
(Hong Kong),
Kritya
(India),
Blueprint Review
(Germany) and
Arabesques Review
(Algeria). His forth chapbook was
One Remedy Is Travel
(Origami Condom, 2007). He edits the literary ezine
Eye Socket Journal
. He lives in Portland, Oregon, where he works as a private tutor.