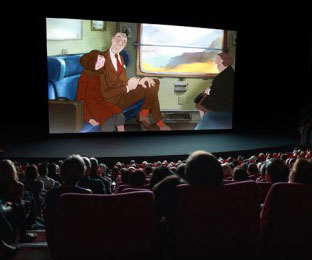 La Grande Salle at the festival
The 2011 Festival International Du Film D'Animation in Annecy, France, included exclusive screenings of studio short films by leading American studios. The entire festival was dedicated to the American animation studio industry. The festival program covered a variety of topics, ranging from animation to production and computer graphics as well as the presentation of 18 special awards, also known as Crystals. The selection of films included 10 feature films, 42 short films, 59 graduation films and 71 TV and commissioned films, TV series and specials.
The Festival International Du Film D'Animation in Annecy is the biggest animation festival in Europe and covers the global animation industry, along with the MIFA industry meeting every year.France is the European leader in terms of investment in the animation industry.
There were several moments which made the 35th edition of the Festival in Annecy particularly special. Among them were world-exclusive previews of some of the latest short films from Pixar ("La Luna"), Disney ("The Ballad of Nessie") and Warner Bros. ("CoyoteFalls" and "Rabid Rider"). Other highlights included the awards ceremony, during which there was an announcement about the production of some new Looney Tunes by the Warner Studios, as well as an appearance by Leiji Matsumoto, the legendary creator of "Captain Harlock." For me, the most exciting moment was the glorious "Coyote Falls," about a Coyote's epic quest to capture the Road Runner, in 3-D. In addition, the Japanese dramatic story of a soul reborn in the body of a suicidal teenager, "Colorful," won two Crystal Awards.
As a FIPRESCI jury member, I felt there was a wonderful variety of short films in the competition for the FIPRESCI Award. Most support went to a French short, Patrick Jean's "Pixels," a film already well-known in France. The short film competition at Annecy 2011 featured high-quality animation with a depth of subject and content. The FIPRESCI Award this year went to "Luminaris (Luminaris)", directed by Juan Pablo Zaramella, the acclaimed illustrator and graphic artist from Argentina. "Luminaris (Luminaris)" features an ordinary human in robotics-controlled world who brings light to life with humor and irony. This film also won the Prix du Public.

Jury members on-stage during closing ceremonies
Radmila Djurica is a Serbian freelance journalist who has done correspondence work for the Tiker Press Agency and has had articles published in British Sunday and daily newspapers, including the Scottish newspaper, Sunday Post; in Woman Abroad magazine; and at Storyhouse.org. She has served as assistant editor, reading manuscripts for the
Reading Writers Service
; has published articles with the SCN Television Network in California; is a freelance columnist for the British monthly magazine Code Uncut; and wrote about Serbia's International Bitef Festival of contemporary theatre for Zowie Wowie Magazine, an American e-zine.