Page 1 Page 2 Page 3 Page 4 Page 5 Page 6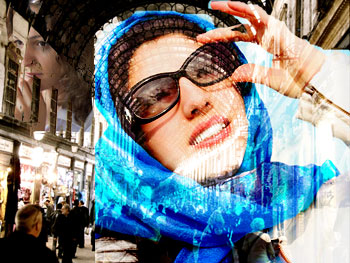 1.
The antique brass pen holder winked under the cone of lamplight among the ungraded homework papers, pulling Constance's gaze to the leafy designs etched onto its phallic shaft. Almost reluctantly, she let her fingertip push up the scallop-shaped cap, then peered into the empty inkwell. Memories lurked there. She remembered bargaining for the pen holder in the tiny shop deep within Damascus's great souk — and Roberta grasping her wrist as they left the store.
"Connie, over there — look!"
Three women shrouded in tent-like chadors hovered like black ghosts in front of a shop, the patchwork roof far above the narrow street filtering dusty rays across the dark pyramids of their backs. At the far end of the covered alley rose two pale Corinthian columns, discolored relics of a two-thousand-year-old temple, beyond which stretched the biblical "Street Called Straight," but the three shapeless females were focused only on the smudged shop window.
Maneuvering to look around their inky shapes, Constance could make out a quartet of bald mannequins flaunting skimpy pastel lingerie on their awkward plastic bodies. Lacy thongs. Padded bras. Transparent whatevers.
"Connie, what could they be thinking?" whispered Roberta.
Constance shrugged. How could she know what was in those women's minds any more than she could guess what Roberta thought from one minute to the next?
2.
"We're going to Syria," Roberta told Constance as they hiked across Golden Gate Park's panhandle. Whiffs of something disgusting blew their direction, probably from an illegal camp hidden in the thicket behind the trees. Constance didn't even turn to look at Roberta.
"Who?"
"You and I," Roberta replied through a mouthful of wind-tossed dark hair.
"Syria? Why?"
"Connie, don't be a pain. To track down Zenobia. My Zenobia." Constance looked at her skeptically. "She kicked the bastards in the balls and got away with it. Well, she did — for a while."
Since she'd reported on Zenobia for Mrs. Crowell's World History class two decades before, Roberta had idolized the Palmyrian queen who told the Romans to screw themselves. Depressed again by her bad luck with men, she intended to cheer herself up with a pilgrimage to that gutsy lady's city.
Year after year, Constance listened to Roberta's complaints about the male sex. So the cure for the pain this time was Syria. Why not? Thanks to her rich, conveniently dead parents, Roberta could do as she pleased, but she was no good with visas or hotel reservations and was sure she'd miss planes and lose her passport and credit cards. Constance, on the other hand, was notoriously efficient. It was her curse.
After the usual cycle of begging and teasing, Constance agreed to help Roberta escape her familiar, bitter, self-destructive existence. She worked out an itinerary by long distance with a Syrian agent, made reservations, bought tickets, and got Roberta to SFO on time. Eventually, they were immersed in the strange brew of new and antique that was exotic, dusty, sometimes beleaguered Damascus.
"I love the way the shopkeepers offer us tea," Roberta told her on their second day in the city that their guide book claimed was the oldest in the world. "They're so charming."
"Sure, they're charming," Constance hissed, stepping over something that looked suspiciously like shit. "They're salesmen!"
Constance began making mental notes for what she'd tell her fourth grade class about her summer in Syria: "It's mostly desert, with oases and ancient cities scattered here and there. One of the oldest civilizations on earth."
No. That won't do. She'd have to jazz it up, use pictures, maybe a video.
After several days of wandering through historic streets, alleys, and bazaars, they met their driver/guide. As Constance could've predicted, Roberta was impressed by Khalid's dark moustache and weary, middle-aged good looks. He spoke decent English, was borderline obsequious, and was costing Roberta a fortune, but seemed to know what he was doing. All Constance asked was that he get them where they wanted to go and keep them alive while doing it. Not so easy to do, these days. A strange country, filled with handsome, angry men and tired-looking women, all watched over by giant unsmiling portraits of the dictator.
A day driving across sunburned brown hills brought them to Krac des Chevaliers, still dominating the stark landscape after a thousand years. First stop on their journey to Zenobia's capital city. Massive, threatening, relentlessly masculine.
"It's like a movie set," Roberta announced as Khalid set out a picnic lunch on one of the hilltop crusader castle's stone terraces. "Mel Gibson should be leaping around in tights."
Instead of movie stars, Constance glimpsed a black-garbed old crone hunched against a dirt-hued wall, probably giving them the evil eye. This place would interest her fourth graders. She'd take photos to show them.
When Khalid finished setting out the lunch, he withdrew, his short legs and big ass taut with contempt, leaving them with their cold chicken, couscous, and wine.
"I begged him to eat with us," Roberta pouted, blinking into the sun.
"It's not their custom. You don't want to embarrass him."
"Maybe I do." She pushed her black hair away from her face, peering over to where he sat alone next to the colossal stone wall. "He's not bad-looking. If only he were taller."
Constance tried to see Khalid with Roberta's eyes, but all she saw was a short would-be Omar Sharif in a purple drip-dry shirt with dark rings under the arms.
After lunch, Roberta vanished into the labyrinthine castle, with its yawning hallways, rooms, and dungeons. Khalid and Constance discovered her playing a game of hide-and-seek with a couple of Syrian children on the huge stone ramparts. The sun blinked behind the great limestone blocks, releasing flaming shards as the game moved first one direction and then another. Roberta shouted with pleasure. A child in the body of a rich adult: the recipe for trouble.
Page 1 Page 2 Page 3 Page 4 Page 5 Page 6
Bruce Douglas Reeves' novella,
Delphine
, won the Clay Reynolds Novella Competition and will be published by Texas Review Press November 1, 2012. He's also published three novels (
The Night Action
, New American Library and Signet Books;
Man on Fire
, Pyramid Books; and
Street Smarts
, Beaufort Books and Ace Books.) Recently, he's completed a new novel,
Cavanagh's Promise.
He's published short fiction in nearly three dozen magazines and literary journals, including:
The High Plains Literary Review, Runner's World Annual, Hawaii Review, The Long Story, Eclipse, The Drill Press, The Main Street Rag, Clapboard House, South Carolina Review, The Blue Lake Review, Danse Macabre,
and
The New Renaissance.
Three of his previously published short stories, "Obsession," "Ferrocarriles Nacionales de Mexico," and "The Lady's Not for Keeping," now are available again at
ANTHOLOGY BUILDER
.