Page 1 Page 2 Page 3 Page 4 Page 5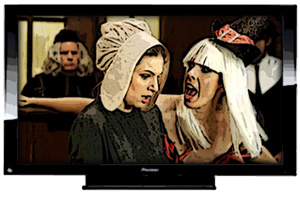 Well, there you have it. It's another world, a world we can hardly comprehend, yet people have the same needs, the same problems as we do over four hundred years later. And now it's down to you. The switchboards will be open as soon as I sign off for the night, and remember, you can review the footage of those interviews, plus my earlier encounters with the citizens of Martinstown, on pay-per-view. It's all there for you to make the decision: who walks free and who pays the ultimate price. Till tomorrow, then, good night. Think carefully before you make that call; these women's lives depend on you.
We are in a small, wood-paneled room. From the view of trees through the open window, it is obvious that this is the second story of a building. Our viewpoint rises and turns to show a large table with papers and boxes on it.
I'm about to take my seat in court. I've just checked my monitor, and the vote is unbelievably close. Don't forget that you can vote right up to the moment when I call the final recess and retire back here to deliberate — or should I say, to check the judgment that you, our network viewers, have delivered on these women. OK, folks, here we go.
Beyond the door we see a courtroom packed with townsfolk, who fall silent and look up expectantly.
"All rise for Judge Aston."
"Good people of Martinstown, we are here today to establish the guilt or innocence of these three women. Let the defendants be named and brought in. Firstly, I call Goody Tanner."
Sarah Tanner enters. She looks a little worried, but then her gaze focuses in our direction, and she smiles.
"Goody Tanner. You are accused of witchcraft. How do you plead?"
"I plead not guilty. My confession was not got willingly, and I am here because of him and his vile passions."
She points theatrically. Our viewpoint follows her arm to show a stony-faced mayor sitting beside an empty seat. He looks alarmed and says hurriedly, "The woman is desperate to blame any but herself, Judge."
"That may be, and the truth will no doubt come out during the trial, but at this stage all I require is that a plea be entered. Let the record show that Goody Tanner pleads not guilty. Call Goody Mackerell."
Anne Mackerell is led in. She is still sucking at her dress, showing bare feet and dirty, scabbed legs. As she comes up to the bar, she blinks at the court and tries to bury her head in her skirt.
"Goody Mackerell, how do you plead?"
"I want to go home. Everyone is looking at me."
"Clerk, please enter that as a plea of not guilty. Finally, Goody Radcliff."
Goody Mackerell is taken off, and Goody Radcliff comes in. She keeps her eyes downcast and looks meek and afraid.
"Goody Radcliff, how do you plead to the charge of witchcraft?"
"Not guilty, sir."
"What? Have you changed your plea?"
"No Judge, she has not changed her plea."
Our view swings round; the spare chair next to the mayor is now occupied by Reverend Dawkins.
"Reverend, you wish to speak?"
"I do. Goody Radcliff is no witch. A foolish and weak woman perhaps, but no witch."
"What are you talking about?"
"This morning I visited all three women, to ask if they had any last burdens upon their souls which I could help them lift. Goody Tanner insisted she had been wronged. Goody Mackerell had little of sense to say. But Goody Radcliff shed tears of remorse for her weakness and told me the grim truth of her situation."
"Yesterday she freely confessed to me that she was a witch!"
"The fact that she has confessed to none but you only adds weight to her testimony."
"In what way, Reverend?"
"She had no choice but to say to you what you wished to hear. You are her master."
"Her what?!"
Page 1 Page 2 Page 3 Page 4 Page 5
Jaine Fenn is a British science-fiction writer. Her short stories have appeared in various 'zines including
Alfred Hitchcock's Mystery Magazine, On Spec
and
GUD.
She is the author of the
Hidden Empire
series of books, the first two of which,
Principles of Angels
and
Consorts of Heaven,
are published in the UK by Gollancz. She has no time for reality TV shows, because they combine two things she dislikes. Her Web site can be found at
JaineFenn.com.