Page 1 Page 2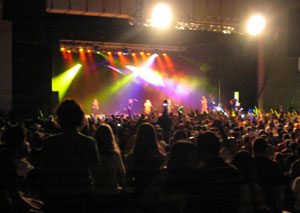 London in the early sixties; a backdrop of rhythm and blues music on a small island in the River Thames; some forgotten insights into those days.
Anglers have fished along the banks of the River Thames since time immemorial.
"Did yer catch anything?" is a common greeting to these surly folk.
"Naw, not today. Had a few bites."
Nothing has changed with them ― neither their keep nets, fishing rods, Thermos flask of tea, gruff speech patterns nor the fish they seek: dace, perch, roach and eel. They dislike the latter because it tangles fishing line. For most anglers the coming and passing of the Beatles was of no consequence; fathers fished with their sons in harmony, undisturbed by the new generation of music. I was an exception.
Located about 16 kilometres from central London, Eel Pie Island in the River Thames, Twickenham, was a nascent centre for British rhythm and blues in the 1960s. In the summer of 1963, I frequented Eel Pie Island Hotel to listen to the Rolling Stones. They had made a 45 single called "Come On," a Chuck Berry song that was played on the crackling 208, Radio Luxembourg. For a young person living in South London, it was a rite of passage to walk across the footbridge and visit the dimly lit Eel Pie Island Hotel's dance hall with its beaming floorboards.
I now reside in Vancouver, Canada, but often return to towpaths of the Thames, encompassing Richmond, Twickenham, Teddington, Kingston, Hampton Court and East Molesey; the swans, deer in the neighbouring parks, trains and train stations have not changed since my youth. No, 1963 and '64 were not idyllic years. I was just a teenager growing up in postwar Britain with little in common with my parents. I had ceased fishing ― but what is amazing is how regularly I am reminded of those days by way of the era's music and its now aging mega-star personalities.
You could buy fish and chips and eat them out of newspapers, paying with only a half crown. Many young men of the time wore Italian suits and pointed shoes but not on Eel Pie Island. Cords, jumpers and college/university scarves were the norm. Girls were gypsy-like; it was an era before the mini skirt. Only a few people owned transistor radios and only certain young people had a telephone at home, or as it was said in those days, were "on the phone."
I recall one summer Sunday evening sitting on the grass outside the Eel Pie Hotel, drinking cider and staring at the River Thames. We thought we were hip, drinking amongst a pseudo-student crowd. Just youth. Licensing laws were strict, but the drinking age was vague. There were no drunk driving laws, but back then we didn't drive. You had to be twenty-one to vote, but you could be drafted and killed at eighteen in a foreign war. Of course, if you lived in Northern Ireland, you might be twenty-one but still not have a vote. The word Empire was not dated, and England was proud of the Commonwealth ― although restricted immigration was in place due to some 1962 act of Parliament. But we were not sure if that meant anything. Then, people lived in England, not the U.K., and England was not part of the Common Market and unconvinced it should be. The first Surgeon General's Report on Smoking and Health was issued in 1964 and made the front pages of newspapers, but people still smoked everywhere. What didn't make the headlines then were the 1963 findings of a few scientists of carbon dioxide emissions. We didn't know anything about skin cancer; and we thought "the more sun the better."
Our counterparts in Berlin and on the Left Bank in Paris were discussing serious topics. But the Eel Pie patrons were like soccer fans, except we spoke of groups and venues and not players or teams. We all knew of someone who was in a musical group band or who was going to start a band. Was the music we were listening to any good? Well, yes, but so was the music of Dmitri Shostakovich, Igor Stravinsky, Thelonious Monk and John Coltrane, of which we were unaware.
Page 1 Page 2
Pages: 1 2
John Joyce was born at Hampton Court in England. He held school records for running the mile. He was educated in London and Salford, Lancashire, where he gained an honours degree in electrical engineering. Subsequent studies have been at Dalhousie University, University of British Columbia and Capilano College. John Joyce started writing philosophy at school and has been extensively published. "Moniques's Interview" was his first short play, and "Going Standby" is his latest. He departed England for Montreal to go around the world, living at different times in Montreal, Toronto, Ottawa and Dartmouth. He resides in Vancouver, Canada with his wife, Diane. Altus Arts Agency promotes his works worldwide.