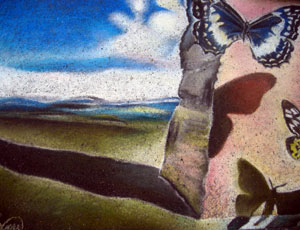 (part one of a series)
1
The stone cross lay like a fallen monument on the lawn of Lorrence, New Jersey 's Holy Trinity Church, the Episcopal parish of my boyhood. For my friends and me, the cross was our pebbled platform — so many pebbles that we wondered how many were sealed together in this ten-foot crucifix barrier between the lawn and walkway to the church's traditional red door.
"I'm thinkin' twenty thou," said my friend Joey Wicklund one spring Sunday as we stood on the cross's two-foot wide base before 9:30 Morning Prayer (We never stood on the arms of the cross. "Sacrilegious to stand there," Joey had reasoned, using a word we had learned in our Sunday School class). With his right middle finger, Joey tipped ash from his cigarette to the pebbles. He cupped his right hand around the cigarette to hide it from parishioners approaching Holy Trinity's red door.
Wayne Kennemer, also in our Sunday School class, stood with us. Combed back from his forehead, Wayne 's red hair lay in waves and folded ducktail style above the back of his collar. Wayne said, "Gotta be more. Twenty-five thousand. What do you think, Harper? Your old man's on the vestry. He ever tell you how many?"
"I asked him once, but he didn't know," I replied. "Said it was built by a stonemason… been here ever since he and my mom were married."
"Your mom marry the stonemason, Harper?" Joey grinned, turned away, and inhaled, his shoulder a barrier between Wayne and me.
"Hey, that's what Norrigan calls the element of ambiguity," said Wayne , in imitation of our husky-voiced World History teacher.
"You know what I meant," I said.
"Gotta be precise, Harper," Wayne said.
"Try my best." I knocked my right heel against the edge of the cross.
The stone cross had withstood rain, ice, snow, and our shoe scuffs. No one asked us why my friends and I gathered on it. No one told us to get down from it. It was our vantage point. We watched families arrive for the 9:30 Morning Prayer and Sunday School service. Mothers and fathers held their children's hands, fathers straightened sons' neckties. Parents who knew us said hello; parents we did not know either ignored us or nodded to us — high school freshmen who had complained an hour ago about waking up early, getting dressed and ready — sometimes including breakfast, sometimes without — for church. Standing on the stone cross, though, we noted parishioners' Buicks, Pontiacs, and Cadillacs parked in front of Willowyn Terrace's brick and clapboard, bay-windowed homes across the street, none of which belonged to Holy Trinity parishioners. "Nice Caddy old man Henderson has… Wonder if Shelly Greer really gives guys a good time."
Then, at the last minute, we shuffled inside for one more Sunday-morning litany of hymns and prayers, benedictions and blessings we had heard since, as children, we had sat in a pew with our parents. Now, in our middle teens, Joey, Wayne, and I sat by ourselves. Now we knew the hymns and prayers by rote. Now we mumbled, "Yeah right," when Father Hepplewhite, our doughy-voiced rector, pronounced that the Lord was going to make His face to shine upon us and be gracious unto us, now and forever.
"I'll leave milk and cookies out for Him when He checks in on me," Joey Wicklund had responded one Sunday morning that spring.
"Call me when He comes over," I said to Joey. "I'd like to see Him."
"Me, too," added Wayne. "We'll make it a party."
A mother and father with two small children in the pew in front of us turned around and stared at us for perhaps five seconds. The mother whispered to us, "That's not very nice… not at all very nice."
Joey shrugged, not in apology but in recognition he could care less about the woman's reprimand.
After that Sunday, we always sat in "our" pew, the second one from the back of the church. The disgruntled mother, her husband, and their two children sat in a pew near the middle.
John T. Hitchner was raised in Pitman, New Jersey, graduated from Glassboro State College (now Rowan University) and from Dartmouth College. He has also studied at the University of Bath in the United Kingdom. He presently teaches Creative Writing and Coming of Age in War and Peace at Keene State College, in Keene, New Hampshire. His poetry has been published in several journals, including the Anthology of New England Writers, the Aurorean, Clark Street Review, Tar Wolf Review, Paper Street, and Poet's Ink. His chapbook, Not Far From Here, was recently published by Scars Publications. His short fiction has appeared in First Class, Lunch Hour Stories, Ginosko, and most recently in Timber Creek Review.