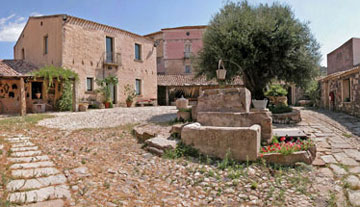 Omu Axiu
I'm at the Convent of San Giuseppe, devouring a sinfully delicious meal, candlelight flickering upon castle-like marble and stone and beams. This is Sardinia, Italy, and today is my 50th birthday. It's a luminous starry night in late April, and smells of simmering seafood, fresh bread, wine, garlic, and juniper mingle as a woman outside the open convent door twists dough into traditional ceremonial ornaments before an open fire. The Convent was constructed on the site of a Roman settlement, and the ghosts of those who've gone before seem to linger in the air.
The meal is wickedly divine, and I'm thinking that it just doesn't get any better than this, but then the waiter brings a surprise: tall candles sparkling on a fresh-from-the-oven pear cake. I make a wish (as if it hasn't already come true!) and blow out all of the candles with one big puff.
I eat every bite of the cake and then polish off the meal with limoncello: a lemon liqueur made right here in Sardinia. Not a bad way to celebrate half a hundred years of life: in Italy, in Sardinia, in the ancient capital city of Cagliari.
One of Italy's best secrets, the island of Sardinia has not yet been discovered by the hordes of tourists swarming Rome. A superb side trip or a delightful destination, this magical place is one of peace and purity. An easy flight (Meridiana is one of several budget airlines that can get you there) from Rome, travelers can choose to land either at the south's Cagliari-Elmas Airport or the Olbia-Costa Smeralda Airport of the north.
The most known part of Sardinia (Sardegna to the Italians) is Costa Smeralda: the Emerald Coast of the island's northeast. Glittering with lavish luxury yachts and opulent private villas, Costa Smeralda is one of the most renowned high-end destinations of the world. This Mediterranean mystique has drawn international jet-setters and celebrities like Rob Lowe, Courtney Cox, and Bruce Willis.
"Putin even has a house here," a local cheese maker stated.
In Costa Smeralda, there is not only the enchantment of white sand and gleaming green sea, jagged rocks and cliffs and archaeological sites and pink flamingos, but there is also Pevero: considered to be one of the most beautiful golf courses in the world. Surrounded by rocks, lakes, and trees of juniper and myrtle, Pevero is not only a golf course; it's an experience.
Another wonderful experience to be had in Costa Smeralda is that of polo. And here, this prestigious sport isn't just for rich people. Families and other travelers can enter the grandstands at the Costa Smeralda Polo Club and watch the match free-of-charge.
I'm sitting in the Sardinian sunshine, watching gorgeous horses gallop across the greenest of fields.
"Is this Paradise?" asks a visitor sitting beside me.
It is.
Sardinia, one of the most culturally diverse areas in Italy, is home to a unique music. Launeddas, a type of three-reed cane that has achieved international attention, originated and are still played in Sardinia. Here, too, can be found the art of polyphonic singing: a guttural form that dates back thousands of years. I don't know how they do it, but I do know that it's a sound that goes straight to the soul and stirs up the heart.
I'm sitting in the bleachers at the Sant'Efisio parade: a celebration that takes place each year on May 1. For three and a half centuries, this Festival of Cagliari has been happening with great fanfare. Of religious and folklore origin, the festival's highlight is a colorful parade. More than 5,000 costumed villagers join the procession of ox-drawn wooden carts decorated with flowers, fruits, vegetables, and wheat. Bells ring and marchers play the three-reed launeddas as rose petals cover the streets. Bystanders munch on torrone, an Italian nougat candy concoction of honey, whipped egg whites, vanilla, and almonds or walnuts.
I chew on the ancient sweet, wave at the paraders, inhale deeply of the rose petals. All is well with the world… Or at least, with Sardegna.
Linda Oatman High is a Pennsylvania author of books for children and teens who presents often at schools and conferences. Her programs and writing workshops may be found at
LindaOatmanHigh.com
.