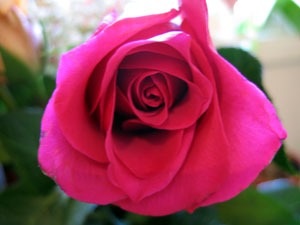 after reading Mary Oliver
I cannot reach you
at five a.m. when you spring
awake to watch a summer rose
fall into a pink-petaled
lake where fishes bloom.
I'm not a morning
person unless a winter
less night yawns & stretches
into dawn with jarring songs
of owls & whippoorwills
and the charming squeak of
a bat. Outlined at dusk,
its soaring silhouette
intersects the evening
sky, circling insects
and other small mysteries
revealed to me before the
pink-pollen light recedes.
And then,
everywhere,
everywhere,
black roses blossom: hybrids
cultivated from a long, wild
growing season of the night.
Mary Harwell Sayler began writing poems as a child but as an adult wrote almost everything except poetry. Her published works range from a children's picture book to a devotional series to two life-health encyclopedias, but eventually journals, anthologies, and e-zines accepted a couple hundred of her poems. She also tries really hard to help other poets and writers through her critiques (yes, the kind you have to pay for), blogs (free), and
The Poetry Editor website
.