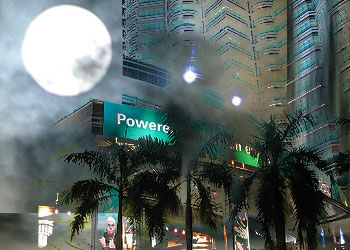 translated by Soma Roy
Let us go to Moon or to Mars
*
No empty space remains here.
On railway-tracks, in between the Gulmohors,
Atop coconut trees
How did so many skyscrapers spring up?
*
Even a small piece of land is not available here.
Let us leave the grasslands then,
and fly into the sky.
There we will build a thatched roof –
our own dream house.
That is better,
That is the best.
*
Despair be kept aside,
*
The whole sky is there for us.
Translator Soma Roy was born in 1959 and brought up at Chandernagore, then earned a master's degree in chemistry from Burdwan University. After working for some time with an international bank, Soma retired and is now teaching at an English medium girls' school at Kolkata. Soma studied German at the Goethe Institut, Max Mueller Bhawan, Calcutta, and completed a course in translational skills conducted by the Comparative Literature Department of Jadavpur University. Soma has translated into English a book of Bangla poems and is also doing some translation work in German.
Ishita Bhaduri, the great-granddaughter of Poet Jatindra Mohan Bagchi, was born in Kolkata, India, in 1961, and started her literary career during the early eighties. She has received the Award by the Paschimbanga Bangla Academy (Government of West-Bengal), the Poet Gouranga Bhowmick Memorial Award (instituted by Upalabdhikatha magazine), among others. She has been invited to poetry readings and seminars at many places in India and Bangladesh. On May 2008, she attended a solo poetry session at Beijing, China, arranged by the Indian High Commission, Beijing. She has 21 published books. Some of her noted poetry books are
Shabdey Raktey Aanguley, Tomar Chibukey Ishwar, Athaba Brahmakamal,
and
Eucalyptus Gandha.
She has edited
Jatindramohan Bagchi/125,
a commemorative volume on poet Jatindra Mohan Bagchi. She wrote a collection of short stories,
Pakhir Paalak
.
Saaheb Subor Deshe
is a travelogue based on her tour to the U.K. & Europe. A collection of short poems was translated into English, named
Marigold Moments
. A collection of her selected poems,
Prem O Biraher Kabita,
was published in 2006, as well as a book of rhymes,
Malaichaki,
published in 2008 in Dhaka, Bangladesh. Her Web site can be found at:
IshitaBhaduri.com