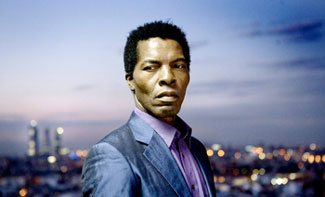 Directed by: Jim Jarmusch
Starring: Tilda Swinton, Isaach De Bankolé, Luis Tosar, John Hurt
The brand-new Jim Jarmusch film The Limits of Control was screened at the 20th annual Ljubljana International Film Festival (LIFFE) in Slovenia.
One of the truly independent American film directors, Jim Jarmusch is an uncanny and charming writer-director (Stranger Than Paradise, Down By Law, Mystery Train, Ghost Dog, and Broken Flowers). This time he headed to Spain to shoot The Limits of Control, his first film shot outside the U.S. "When I was writing the story, Spain kept calling me. I have so many Spanish heroes, from Cervantes to Goya to Buñuel and the Surrealists. It's an amazing country: shooting in Seville while the orange blossoms were blooming was like being on drugs," said Jarmush.
A strange, David Lynch-style sluggish thriller, the film was based on an idea Jarmusch had 15 years ago, about "a very quiet, very centered criminal on some sort of mission." The characters here are on a journey, and the journey is the story.
A French-African actor, Isaach De Bankolé, plays a hit man who goes to Madrid and Seville to meet mysterious contacts, brilliantly played by Tilda Swinton and John Hurt, who lead him to an equally mysterious American, played by Bill Murray. In his lead role, De Bankolé is not very verbal, but he expresses things through the tiny details in his face, or gestures. These gestures convey the story and tell the audience lots about the character.
There is a kind of code used in the film, with ideas repeating but slightly differently every time. Jarmush explained that the film is like cubism: a fracturing of perception of the physical properties of an object. He said the film uses that in a way so that a lot of these things are interpretable from different perspectives. Essentially, then, there isn't one right way to interpret them. Jarmusch's film can be seen as metaphysically suggestive, with the metaphysical element of the story referring to the limits of political control in the world and to the fact that the world is not what we perceive it to be.
The film references John Boorman's 1967 thriller, Point Blank, starring Lee Marvin, and based on its visual resemblance, Marvin seems to haunt Jarmusch. Here, Jarmusch isn't too interested in plot, but he uses storytelling as a way to slideshow perfect frames, from one moment to the next. The soundtrack is spectacular, contributing to the feel.The film is atmospheric, has several levels and features a circular structure, even if the film at the same time is made up of sharply-defined angles. Like its protagonist, it's kind of ascetic, yet a distinctly modernistic, Jarmuschian work.
Rating: **** (4 out of 4 stars)
Disclosure: The author received a complimentary ticket to view this film as a member of the festival jury.
Radmila Djurica is a Serbian freelance journalist who has done correspondence work for the Tiker Press Agency and has had articles published in British Sunday and daily newspapers, including the Scottish newspaper, Sunday Post; in Woman Abroad magazine; and at Storyhouse.org. She has served as assistant editor, reading manuscripts for the
Reading Writers Service
; has published articles with the SCN Television Network in California; is a freelance columnist for the British monthly magazine Code Uncut; and wrote about Serbia's International Bitef Festival of contemporary theatre for Zowie Wowie Magazine, an American e-zine.