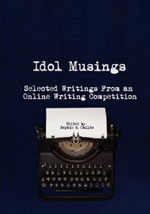 If you like humor, real-life stories or just plain good writing, you will enjoy Idol Musings: Selected Writings from an Online Writing Competition edited by Sophie N. Childs. Idol Musings includes some of the best entries from LJ Idol, an annual online contest for Live Journal modeled after American Idol. Entrants come from a variety of backgrounds and experience. Some are established writers and some have never been previously published. What they do share is a love of blogging.
Childs has included entries on a variety of topics; there is something for everybody. While there some humorous pieces included, the book's strength lies in the intensely personal pieces.
Some pieces, such as "Once Upon a Baby Doll" by Darcy Bridges, deal with the writer's financial struggles. That is something more and more people can relate to.
Pieces also deal with other common themes such as love and loss and family. There several pieces on the theme of "cracking up." Although we may not have had experiences exactly the same as the writers, many of us can relate to the feeling of being overwhelmed with our lives. Other entries deal with experiences that may be unfamiliar and may even be uncomfortable for some people to discuss.
"How I Learned to Love the Bomb or Why I Stopped Being Angry and Started Living Life" by a writer known only as SG, describes her experiences as a lesbian dealing with other people's homophobia. She starts her piece saying: "Ninjas are much cooler than pirates." She explains that she has gotten tired of being angry at people who hate her because of her sexual orientation and has decided on a more subtle approach to dealing with them. "All I can do is live my life, the best way I know how and hope that maybe, just maybe, they'll come to see me (and my wife) as more or less just like them, except we happen-to-be-gay."
In "To the Ghost I've Never Met," the anonymous writer addresses her ex-boyfriend's ex-girlfriend that gave him herpes. The narrator talks about what it is to be a "one in six" statistic. The entry is a surprisingly compassionate treatment of a subject that can be uncomfortable for people to discuss.
Entries like these are so blunt in their openness, they may be shocking. But they also touch your heart. It's worth reading Idol Musings to gain new insight into a new form of writing that is still emerging the blog. You will also gain insight into the online community at Live Journal. Like any community, there may not be disagreements, but it's obvious there is a bond this online community where they can share their personal experiences. Most importantly, by reading Idol Musings, you will gain insight into the human experience.
Rating: **** (Must Read)
Fey Publishing, 2009; ISBN: 978-0-473-15100-3.
Disclosure: A review copy of the book was provided by the publisher.
Mary Matus is an aspiring Dave Barry/aspiring Stephen King (and will acknowledge the weirdness of that combination) who has lived all her life in rural Pennsylvania (otherwise known as the Land of Cows and Corn.) She has previously worked for several Pennsylvania newspapers, in both the editorial and the composing departments. When not writing, she works as a customer service representative, and she has learned the joys of dealing with the public. She is a 1999 graduate of
Susquehanna University,
where she received a bachelor of arts in English literature and journalism. She has previously written articles for
Standard-Journal Newspapers
and
The Luminary
and has also been published in the online magazine
Wilmington Blues.
In her free time, she is an avid bookworm, reading anything ranging from Toni Morrison to Dean Koontz.