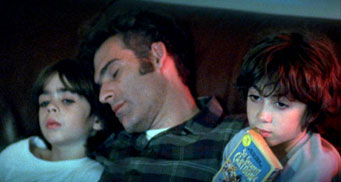 Directed by Ben and Joshua Safdie
Starring: Ronald Bronstein, Sage Ranaldo, Frey Ranaldo,
Abel Ferrara, Lee Ranaldo
According to FIPRESCI Jury Zoran Gojić, Špela Barlič and Radmila Djurica of the 20th Ljubljana International Film Festival (LIFFE) in Slovenia, the jurors made up their mind pretty fast to award the International Federation of Film Critics Award American to Go Get Some Rosemary, directed by Ben and Josh Safdie. "Josh and Ben Safdie brothers tell a simple story about a complicated family — which is their own. Inspired by the New York independent film tradition, it captures the hectic patchwork family life. It's a comical drama about a man in between extremes and his confused sons. A warm-hearted look back without anger," the jury stated.
A New York independent film production, Go Get Some Rosemary is a powerful drama about a New York man torn between fatherhood and immaturity. With a skillful use of atmosphere, the film tells the story about this irresponsible yet charismatic father. Go Get Some Rosemary is a realistic portrait of life in the big city and its exhausting, emotional demands.
The film, faithful to the New York-indie tradition of filmmaking, features strong acting by Abel Ferrara and Lee Ranaldo from the New York band Sonic Youth. Ranaldo's children, Sage and Frey, deserve special mention for their important roles in the movie, as well as the lead, Ronald Bronstein (who previously directed and appeared in 2009's Round Town Girls and 2007's Frownland).
Rating: **** (4 out of 4 stars)
Disclosure: The author received a complimentary ticket to this film as a member of the festival jury.
Radmila Djurica is a Serbian freelance journalist who has done correspondence work for the Tiker Press Agency and has had articles published in British Sunday and daily newspapers, including the Scottish newspaper, Sunday Post; in Woman Abroad magazine; and at Storyhouse.org. She has served as assistant editor, reading manuscripts for the
Reading Writers Service
; has published articles with the SCN Television Network in California; is a freelance columnist for the British monthly magazine Code Uncut; and wrote about Serbia's International Bitef Festival of contemporary theatre for Zowie Wowie Magazine, an American e-zine.