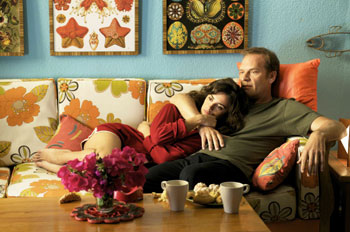 Directed by Pedro Almodóvar
Starring: Penelope Cruz, Lluís Homar, Blanca Portillo, José Luis Gómez
After a screening at the Cannes Film Festival, the great Spanish director Pedro Almodóvar's Broken Embraces (Los abrazos rotos), was also shown on the Sarajevo Film Festival. According to many critics, the film pays homage to Ingmar Bergman, while others have compared Broken Embraces to the simplicity of Rossellini's Voyage to Italy. However, Broken Embraces still carries echoes of Almodóvar's previous work, who is now in his filmmaking maturity. A distinctive stylist, Aldomóvar's new film is another excellent work.
The film is set in Madrid, where Mateo (Lluis Homar), a former film director who is now a screenwriter, is trying to get over a tragic past involving Lena (Penelope Cruz),who is an actress and the mistress of Martel (Jose Luis Gomez), a powerful millionaire. Broken Embraces, like his film Volver, deals with the past. In his film, Almodóvar depicts Madrid's nightlife of the '70s, which grew in reaction to the repressive era of Franco. The characters share old secrets in order to move on in their present lives. Eventually, through this nostalgia, the characters find solutions.
Cruz is perfectly cast in her role. Almodóvar explained, "She has all those characters inside her. She's very conscious of her Audrey Hepburn looks, but in that same body, she can look like Sophia Loren did in the 50s — as she showed in Volver. And in the scene where she wears a white wig, she reminds me absolutely of the desolation of beauty in Marilyn Monroe. Penelope was tired that day. She was smiling like a model, but her eyes were sad and tired. I feel she is the perfect material that I can shape into all the different women I can imagine."
The Sarajevo Film Festival welcomed Lluis Homar and Tamar Novas at the film's festival screening. Novas said, "Almodóvar is an institution, a brand, a quality which in Spain guarantees full cinemas whenever he makes a new film. I think if we had a dozen Almodóvars in Spain, that the crisis in our cinematography would be overcome… He made me panic and made me feel under the pressure, let alone working with actors such as Homar and Penelope Cruz. The initial shock and panic made me prepare to the best of my ability, which resulted in one of the most beautiful experiences in my career."
Homar, a well-known Spanish actor, talked about the fascination of the story they have told: "At moments, it is a comedy, which, in its essence is, in fact, is a tragedy one of the most beautiful stories in the telling of which I have participated as an actor."
This mysterious, complex, soft melodrama about a love affair clearly bears Almodovar's signature.
Rating: **** (4 out of 4 stars)
Disclosure: The author received a complimentary ticket to view this movie as a member of the press.
Radmila Djurica is a Serbian freelance journalist who has done correspondence work for the Tiker Press Agency and has had articles published in British Sunday and daily newspapers, including the Scottish newspaper, Sunday Post; in Woman Abroad magazine; and at Storyhouse.org. She has served as assistant editor, reading manuscripts for the
Reading Writers Service
; has published articles with the SCN Television Network in California; is a freelance columnist for the British monthly magazine Code Uncut; and wrote about Serbia's International Bitef Festival of contemporary theatre for Zowie Wowie Magazine, an American e-zine.