Page 1 Page 2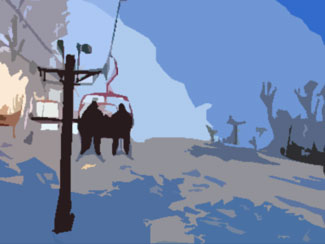 The world looks different from a ski chair, and everyone feels different moving through the air. This ride up Todd Mountain at the Sun Peaks Ski Resort in British Columbia, Canada, will take approximately eight minutes. I will rise 780 meters, according to the trail guide in my zipped pocket. Loading and unloading from a chairlift are always harrowing moments. If you get things wrong, it's awfully embarrassing. I slide onto this quad chair with no problem, but it requires faith to board a ski chairlift when it's a cloudy day at the bottom and one can't see the summit of the mountain or where the lift ends.
I see snow-drenched spruce trees, Englemann Spruce interwoven with vast stretches of ski runs and with the occasional diminutive skier carving out the hill. The roofs of toy-land chalets, each one a little bigger, pass beneath the chair. Do owners often use these beautiful dwellings? How do they occupy themselves in the evenings after a soak in the hot tubs? Read Pride and Prejudice, solve jigsaw or Sudoku puzzles?
There is a dull sound as the chair scoots along with a snare drum-like triplet as it crosses a tower. The latter has a sign reading Doppelaut, reminding one that there is always a Germanic-Swiss influence on a ski resort. In the chair ahead, a couple sits close together. They have made it clear they do not want me with them. Will they kiss before the end of the ride? Behind me, three Japanese snow boarders have hung back so they, too, could be on their own chair together.
This morning being midweek, there was no need to yell "single" in order to advance. Before taking the chair I read we'd had five centimetres of snow overnight, it was minus 11 degrees Celsius, and the last chair would be at 3:30 p.m.
The Christmas season at a ski resort is long and never seems to end until Easter Sunday, when three or four Easter Bunnies hand out tiny Easter eggs. At the bottom of the chair, I heard snippets of conversation among the clatter of other voices and languages and laughter.
"Happy Birthday Claire."
"Let's meet for lunch at 12:15, in the Café Casa."
"We will start with an easy blue run."
"Wo ist Heinz?"
"Anne Marie, my boots are hurting."
Some high roller was barking into his cell phone in what sounded like Hungarian. I wonder how they get cell phone reception around here. There were European train-station aromas of coffee and cigarette smoke, and someone was whistling a tune I couldn't place. The resort takes on a desolate quality during the day, with only the ill and newly arrived sauntering through the shops and bistros. The homeward plodding of the weary skiers commences at about 2:30 p.m., according to the pseudo village clock.
Page 1 Page 2
Pages: 1 2
John Joyce was born at Hampton Court in England. He held school records for running the mile. He was educated in London and Salford, Lancashire, where he gained an honours degree in electrical engineering. Subsequent studies have been at Dalhousie University, University of British Columbia and Capilano College. John Joyce started writing philosophy at school and has been extensively published. "Moniques's Interview" was his first short play, and "Going Standby" is his latest. He departed England for Montreal to go around the world, living at different times in Montreal, Toronto, Ottawa and Dartmouth. He resides in Vancouver, Canada with his wife, Diane. Altus Arts Agency promotes his works worldwide.