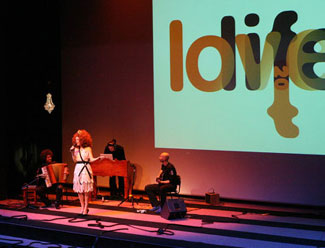 Closing ceremonies at LIFFE
The Ljubljana International Film Festival (LIFFE) is a little festival in Slovenia that has provided a critical view of film for the last 20 years. It reviews the best in international cinema, provides a film retrospective that involves democratic changes in Central and Eastern Europe, and is committed to promoting promising filmmakers, European film, and productions from remote parts of the world, like traditional Peruvian folklore or a baroque film noir from Malaysia or Chile.
The film selection is divided thematically: genre-oriented (Extravagance, Against the Wind, Focus), with insight into national cinematography and worldwide masterpieces (Kings & Queens). The festival section Perspectives, the official competitive section, is reserved for new filmmakers, with films meant to go for Slovenian distribution. The Kings and Queens section features award-winning contemporary films, and World Film Panorama focuses on the front-runners of five continents, while Extravaganza features late-night cinema of "daring idiosyncratic artists that are addressing sensual topics in film." The film retrospective is dedicated to social changes in the former socialistic countries, through a representative selection of a contemporary filmmaker, this time an overview of Austrian film director Michael Haneke and his provocative approach to filmmaking.
LIFFE ended with a gala ceremony.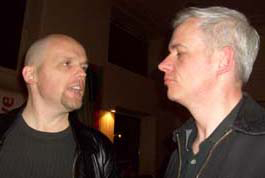 Simon Popek, director of LIFFE, and
Neil Young, Hollywood reporter and festival jurist
The Kingfisher Award, awarded by the international jury Dana Linssen, Elma Tataragić, and Martin Turk, went to The Blacks, a Croatian film directed by Zvonimir Jurić and Goran Dević, honored for being "courageous in its portrayal of a war situation which not only recalls the war outside, but also confronts us with the enemy within every human being that is perhaps the biggest threat to humanity. Starting from a very realistic situation, the film slowly turns into a surrealistic nightmare. For expressive acting, a convincing story and inventive directing…" Special Mention went to Politist, Adjectiv, directed by Corneliu Porumboiu, "for its perfect aesthetic, storytelling, directing of the actors, social engagement and philosophical insightfulness."
The LIFFE Best Short Film Award (awarded by the international jury of Iva Krajnc, Hanna Preuss, and Neil Young) went to "Missing" by Jochem de Vries from the Netherlands. The judges said, "The winning film explores childhood and family with a directness and simplicity that allow us to glimpse apparently ordinary events which say much about the people concerned, their milieu, and their society. Free of inherent judgment or insinuation, its content is left fully open to interpretation of the viewer. It is executed with the economy and confidence that mark the best work in the short-film format." The Special Mention went to the Australian film "The Ground Beneath" by Rene Hernandez.
The Dragon Award went to young Canadian director Xavier Dolan for the film "I Killed My Mother," a film shot in French-speaking Canada. The FIPRESCI Award went to the American film directed by Ben and Josh Safdie, Go Get Some Rosemary.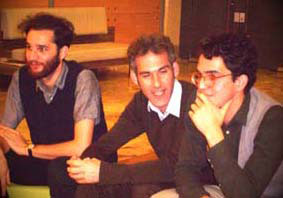 Josh and Ben Safdie with Ron Bronstein
Radmila Djurica is a Serbian freelance journalist who has done correspondence work for the Tiker Press Agency and has had articles published in British Sunday and daily newspapers, including the Scottish newspaper, Sunday Post; in Woman Abroad magazine; and at Storyhouse.org. She has served as assistant editor, reading manuscripts for the
Reading Writers Service
; has published articles with the SCN Television Network in California; is a freelance columnist for the British monthly magazine Code Uncut; and wrote about Serbia's International Bitef Festival of contemporary theatre for Zowie Wowie Magazine, an American e-zine.