Page 1 Page 2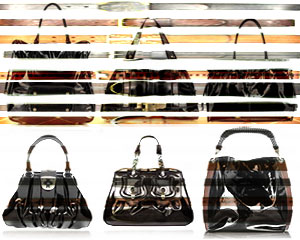 There was no point to sticking around Montreal any longer. It was 1982 and the economy was in the tank. I put all my things in storage, packed up my best clothes and my design portfolio, and caught the Montrealer express train to New York. I remember gazing wistfully over the hardscrabble Pointe St. Charles neighborhood as the train roared south.
When we arrived at the U.S. border, I had to show Canadian identification to the U.S. immigration and convince them that I was a U.S. citizen. They held up the train for a long time, deciding what to do about me. Finally, they let me through.
Arriving in New York, I checked into the Pickwick Arms Hotel on E. 51st Street. At that time it doubled as a low-cost tourist hotel and an SRO. I convinced the manager to give me the SRO rate for a room facing the synagogue and garden across the street. Very charming and, unbelievably, only $160 per week.
Back in those days the fashion jobs were advertised in the classified ads in the back of Women's Wear Daily. I wasn't trying for a designer job. I was looking for something in production, because the prospects were more immediate. I had no references and no resumé. All I had was my design portfolio of styles that I had designed and executed in my boutique in Montreal, along with a fast line of talk.
At the time there was a lot of manufacturing going on in New York, with a constant demand for skilled help. My pitch was that, even though I had no industrial experience, I had talent in the design and construction of leather garments and accessories. That at least got my foot in the door. A guy named Lou Smoltz took a chance on me. He owned a handbag factory that he called "New York Reptile," and he did contracting for the Etienne Aigner (which he pronounced egg-ner) handbag line. He was short and bald and not very charming. In fact, he was a total nut job, but he was a real handbag pro. He could fix every machine in the place himself. He stayed on top of his own production, and he produced a beautiful product.
Lou Smoltz did not like me at all, but he wasn't making as much money as he could have, because he didn't have an effective foreman to push the work forward. My job was to receive the cut pieces that came from the Aigner cutting facility and put them through Smoltz's factory, so that they emerged as finished handbags. This is a very useful skill to have, so I let him train me a little bit and then pitched right in. The guy immediately improved his daily production by 50%, strictly by virtue of me pushing the work forward. That is the value of employing a good industrial foreman. "You have good hands," he said, "and you work hard on a steady basis." Those were the highest compliments he was capable of giving in that business. Nevertheless, he fired me. "We have a personality conflict," he told me.
"I don't have any conflict," I answered.
"But I do," he said.
Nevertheless, he knew I would be useful to somebody, so he referred me to this other turkey, Ed Stein, who had an office in the Empire State Building. Stein ran something called the National Handbag Council, which was a sort of industry association, I suppose.
Stein was a degenerate. "Oh, nice jeans you're wearing," he exclaimed as he grabbed my crotch. Gay guys have always liked me a lot. Too bad I can't elicit the same reaction from women! I put up with this jerk grabbing my balls because I needed a job, and fast. Ed Stein sent me over to see Pearl at Accessories by Pearl, a ladies' belt company located in the 330 Fifth Avenue fashion market. She interviewed me with her husband sitting in the office. I showed them my portfolio and gave them my pitch. Only now I had Ed Stein and Lou Smoltz as references, just as though I had been working in New York for years. The only problem was, I didn't know anything. Unbelievably, Pearl gave me a job running her cutting department, which was a big department of about 30 cutters. I spent the first couple of days making them clean up the impossible mess in that department, but after that I was clueless. I just gave out cutting tickets and hoped for the best.
Page 1 Page 2
Pages: 1 2
Dean Borok, a nephew of Saul Bellow, is the winner of the 2009
New York Magazine
political fictions literary competition with his award winning short story "A Wall Street Christmas Carol". He operates an experimental comedy web site at
200motels.net
.