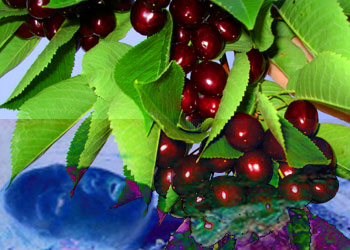 Used for jelly and wine,
wild cherry syrup for coughs
from the bark, the wood
red-brown with whitish
sapwood, resistant
to decay, durable,
the small cherries are called drupes,
leave yellowed stones.
Found in oak hickory woods,
not here. I would re-arrange
the world this morning, bring
the trees walking towards me
like Orpheus or MacBeth.
Instead the words of those saw-toothed
leaves float down about me,
and a forest of silent sound swallows
the light of here and now.
Carol Hamilton has recent publications In Louisiana Review, Tribeca Poetry Review, Boston Literary Review, Iodine Poetry Review, Bluestem, I-70 Review, U.S.1 Worksheet, Colere, Lilliput, Flint Hills Review, Hubbub, Blue Unicorn, Sow's Ear Poetry, District Lit, Haight Ashbury Poetry Journal, Texas Poetry Calendar and others. She has published 17 books: children's novels, legends and poetry, the latest being Such Deaths. She is a former poet laureate of Oklahoma and has been nominated five times for a Pushcart Prize.