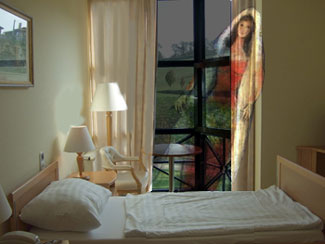 "There you are," my mother greeted me. "I was beginning to think you're not coming."
"The bus connections were terrible, but I called the hospital. They won't get to you until late afternoon."
My mother had fallen and broken her hip yesterday.
"I still don't know how it happened. Lillian came in with fresh linens and I started to get up from the armchair. My legs folded under and then, I was in pain, on the floor."
"Did your head spin? Did you feel lightheaded?"
"No, I felt fine."
"Maybe your legs are weak," I said, thinking this explanation unlikely. My mother has always walked a great deal. But it could have been the medication. Mother had a stroke eight years ago and now suffered from angina. Her medication was continually adjusted and readjusted. However, I didn't mention the possibility of over-medication. Mother might stop taking all pills — she was always complaining that all day long she was swallowing pill after pill.
"But in the future, you should hold onto something before you try to get up. Put a chair in front or nearby," I said.
"Yes, I can't do anything automatically, spontaneously, not any more. I must always think first. I wish they could set the hip without surgery."
"That's not possible."
"I don't care if it doesn't heal properly. As long as I can walk."
"The fracture can't be left alone to heal. It's a life-threatening situation. As it is, they're waiting too long. I talked to the surgeon. He sounded very competent. They'll give you a local. Because of your heart, they don't want to risk general anesthesia. The doctor said he doesn't foresee any problems." I didn't say that the doctor had said there was a fifty percent chance that Mother would never walk again.
"I hope I'll walk again. A hip fracture, how unfortunate. I dreamed of Maria Petrovna last night."
"Maria didn't have a hip fracture," I said, dispensing with the un-American patronymic. Mother has lived in the United States for over forty years, but in her circle of Russian friends, they still never called each other by their first names.
Maria Petrovna was her closest friend. Two years ago, while a guest at a dinner party, she slipped on a wet spot on the kitchen linoleum as she helped clear the table, bruising a hip. A sore developed and refused to heal. We visited her in the hospital shortly before she died. Browless, lashless, her head in a kerchief, she was breathing in oxygen in gulps through a tube. I brought apples and oranges, and throughout the visit, I kept offering to peel them for her. I finally had an orange myself.
"She was in a room here with me. It didn't feel like a dream. It was very strange. I woke up in the middle of the night, feeling pain, unable to turn over. I wanted to buzz for help but couldn't reach the chord, so I just lay still, and then I saw her. She floated in from the corridor. She was wearing the grey suit that she loved so much — I remember it very well — and a lilac blouse. The blouse was new. I had never seen it before. It was tied in a bow in front, and it looked like silk or rayon. I wanted to say, 'Maria Petrovna, what a beautiful blouse!' but she just floated by and was gone. I wasn't scared. I felt calm, but surprised. How did she enter? Where did she come from? … Remember all the delicious, wonderful meals we had at her house?"
"Yes, I remember." We were silent for a few minutes. "And her legs and arms? How were they? And hands? Did she hold them together?" I asked, curious about the details.
"Her legs and feet were together. She was wearing dark red shoes with high heels — she loved pretty shoes. And she had a bouquet of flowers in her hands. I think there were tulips, carnations, chrysanthemums, and maybe a spray of forsythia. She looked like a figure in Chagall's paintings."
"How did she leave? Did she turn around?"
"She went through the window. Very gracefully. Then after she left, the nurse stopped by to see if everything was all right. She gave me a sedative, and I fell asleep."
An orderly came in, and my mother was placed on a bed with wheels. I walked along as he wheeled the bed to the service elevator. I kissed Mother on the forehead, watched the elevator doors close, then took the visitors' elevator down to the ground floor.
Helen Tzagoloff was born in the former Soviet Union, coming to the United States at the age of eight. She has lived in New York for the past several decades. She has worked as a translator, scientist and a small claims court arbitrator. Her poems and prose have been published in Barrow Street, PMS, Poetry East, Another Chicago Magazine, Interpoezia, Stranger at Home anthology and other journals. She has been nominated for the Pushcart Prize and was the winner of the Icarus Literary Competition, in honor of the Wright Brothers. At present she is working on a memoir about her parents' quest for asylum during the Cold War.