Page 1 Page 2 Page 3 Page 4 Page 5 Page 6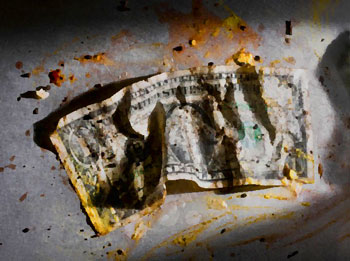 Three months later, Wyndy's doorbell rang. Standing in the hallway was a man with a package. "Wyndy Elkins?"
She nodded.
"My aunt, Clare Cormer, passed away."
The name hit her like a slap, but she managed to say, "I'm sorry."
"Thank you. She went quietly in her sleep. I found this box in her things. It's addressed to you."
"I barely knew her."
"It has your name and address on it."
Wyndy hesitated and then said, "Are you aware that she was giving away money?"
"No."
"She left those fifty-dollar bills all over town."
"Really? Well, I heard about that, but it never occurred to me that it might be her. She and I weren't close." He thought for a moment and then said, "She probably didn't know what else to do with her winnings."
"Winnings?"
"She won a big lotto jackpot a few years back."
Wyndy's mouth gaped. "But, she told me she found drug money!"
He laughed and shook his head. "She was known in our family as 'Aunt Clare with the dramatic flair.' She was just pulling your leg. As far as I can tell from her estate, she's still got most of the money she won." He handed over the box, and left.
Wyndy, now thoroughly confused, went to her computer and looked up lottery winners. She couldn't find a Clare Cormer among them. Could the "nephew" be a liar, too? She searched for news stories about drug busts in Westerbrook. Nothing. She'd reached a dead-end.
Except for the package.
She glanced at the battered box sitting on her coffee table. Wyndy didn't want to open it. Clare would not have left her anything good.
Then she realized she'd missed the obvious. Bringing up the online paper, she clicked through to the obituaries. A search of the last three months brought up no Clare Cormer.
That lying bitch!
She scanned the obits of several other nearby towns, but found nothing. Doing a general search for "Clare Cormer," she found many listings for Claires and Cormiers, but Clare Cormer with no i's didn't exist on the internet.
Maybe she didn't exist at all.
Wyndy poured herself a glass of merlot and drank half of it before sitting down on the couch. Sweat prickled her upper lip as she picked up the box, pulled tape off and yanked the flaps open. She peered inside.
Crumpled newspaper. She took another sip of wine before pulling out the paper.
A battered cookie tin nestled inside.
That's not full of chocolate squares.
Wyndy downed her wine. She unfolded and smoothed a newspaper over her coffee table, took her gift out and placed it on the paper.
A nail splintered as she pried the lid off one side. She lifted it. The tin was full to the brim with rich, brown soil.
Catching her breath, Wyndy remembered Clare saying, "It almost doesn't matter whether it's good or bad. It's all about the moment." She took a quick inventory: heart racing, blood pulsing, sweat forming, mind alert, nerves tingling, breath fast, senses alive. She sniffed the loamy aroma. Okay, Clare. Touché. The moment. Here and now. I get it.
Wyndy jammed her fingers into the dirt. They found something edgy. She ran to the kitchen and dumped the whole thing into the sink.
Money. Dirty and damp. Filthy piles of bills.
Wyndy stared, breathing shallowly, waiting for her head to clear. A moment, indeed.
Picking up a handful, she counted, "Five, twenty-five, thirty, forty, sixty." Her hands shook. It's coated, as if it's been buried for years. The bills were all denominations from fives to one-hundreds. So much money. She kept counting, unable to guess at the total. "Seven-fifty, eight." The bills stuck to one another. "One thousand!" What if they're marked? Her jagged nail caught repeatedly on the bills as she pried them apart. Maybe I could get a laptop. "Two thousand." Could it be counterfeit? I'll have to scrub it before I can spend it. Soil worked down into the creases of her cuticles. Some of it's actually mildewed. This must be the drug money. So, it was true. It's probably not enough to pay off the car. "Three thousand." Even if it were, I couldn't pay with a wad of dirty bills. I'd have to get this in the bank somehow.
Page 1 Page 2 Page 3 Page 4 Page 5 Page 6
Nancy S.M. Waldman grew up in Texas but has been moving northward ever since. She now lives on Cape Breton Island, Nova Scotia, in Atlantic Canada. A former R.N. and artist, she writes mainstream and speculative fiction full-time, except when she's maintaining her various web sites, traveling to visit her far-flung family, or hanging out with her husband on the porch of their vividly-painted old house in the woods. She is one of the founders of Third Person Press, an independent publishing venture that nurtures and promotes regional speculative fiction. Nancy's short fiction has been published in
The Men's Breakfast
from Breton Books,
The Nashwaak Review
, and in three anthologies —
Undercurrents, Airborne
and
Unearthed
. Find out more at:
http://nancysmwaldman.com
.