Page 1 Page 2 Page 3 Page 4 Page 5 Page 6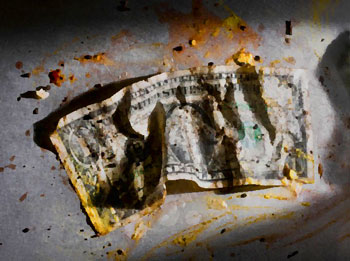 "I have no reason to tell anyone."
"I don't believe anything you say. Of course you want my money. I don't know you. And you don't know me," Clare continued.
"True."
"Maybe you're a cop. Are you wearing a wire?"
"Good Lord, no!"
Clare wiped at her eyes with the back of her hand. "Oh God! All of life is a risk, isn't it?"
"What's the risk?"
"Imprisonment, for starters."
"Huh?"
Clare croaked, "S-stolen money!"
Wyndy felt the wobble in her chair. "I should go."
But Clare's cold fingers reached out and grabbed Wyndy's arm. "I didn't take it from anyone, not directly. I found it."
"Oh," Wyndy said. Found money. Not stolen.
"Years back. We lived in just outside Westerbrook. Our neighbor got arrested for selling drugs. Sometime later, I was out walking near his property and I saw a pretty cookie tin, half-buried. I brought it home and left it outside, planning on cleaning it up. But I forgot it. My husband was sick and died around that time. Eventually, I found the tin again, opened it and there was the money. Lots."
"Oh my God," Wyndy said.
"So, I kept it."
"You kept it."
She shrugged. "What else could I do? The money belonged to that young fellow, I'm sure. When he got out of jail, I planned to give it back. He must have been a hard worker."
"But you didn't give it back."
"He's still in jail."
"I see."
"I didn't want all that cash around, so I put the money into several banks. Gradually, so as not to attract attention. I use those automatic machines. Less personal, you know?"
Wyndy gulped, and nodded. She couldn't believe how wrong she had been about this woman, even while being exactly right.
"But I don't need money. Ted had life insurance."
"Oh. You aren't giving all your money away?"
"Nope."
Wyndy felt lightheaded. "I'm going," she said, rising.
"Wait! You have to promise that you won't tell. I could get in trouble."
"I promise. I won't tell."
"Why should I believe you?"
"I came because I was concerned, but you're obviously fine. You're right. It's none of my business, though…I'd like to know why you give it away randomly. You have no control over who gets the money."
"Oh, but that's the point. It's not about the money." Clare came close, her red-rimmed eyes wide. "It's about the moment. That moment when something totally unexpected happens. It almost doesn't matter whether it's good or bad. Like… this moment we just had. You came here and surprised me. Totally unexpected. It didn't feel good, but it was real. Life should have more moments that shake you up — shake you to your core. Everything suddenly transforms into here and now. I use money to shake people up, take them out of their everyday existence. To give them a moment!"
"I see."
Clare cocked her head. "I don't think you do, Wyndy." She paused and said, "Maybe you believe you won't tell, but I'm worried."
"You have nothing to worry about."
"Come to think of it," she said, her shoulders relaxing, "you're right. I could have your job for this."
Wyndy's spine tingled. "Our little secret, then?"
"You know, Wyndy with two y's, you and I are cut out of the same cloth."
* * *
The next afternoon, Wyndy's boss called her into his office, saying, "We've had a complaint."
"About me? What?"
"That you used confidential information to interfere in the life of one of our customers."
"Well. You don't have to tell me who it was. It's perfectly obvious."
"What do you have to say?
"The woman is —" Wyndy pointed her index finger at her head and circled it slowly.
He nodded. "It wouldn't take much to convince me of that. Mrs. Cormier is eccentric."
Wyndy enjoyed the fact that he mispronounced her name. "Do you know her?" she asked.
"No. Which is odd, because I do know most of the old-timers in town."
"I had tea with Mrs. Cormer at her invitation. I don't think that constitutes some kind of grievous error on my part. Does she want you to fire me?"
"Yes."
Page 1 Page 2 Page 3 Page 4 Page 5 Page 6
Nancy S.M. Waldman grew up in Texas but has been moving northward ever since. She now lives on Cape Breton Island, Nova Scotia, in Atlantic Canada. A former R.N. and artist, she writes mainstream and speculative fiction full-time, except when she's maintaining her various web sites, traveling to visit her far-flung family, or hanging out with her husband on the porch of their vividly-painted old house in the woods. She is one of the founders of Third Person Press, an independent publishing venture that nurtures and promotes regional speculative fiction. Nancy's short fiction has been published in
The Men's Breakfast
from Breton Books,
The Nashwaak Review
, and in three anthologies —
Undercurrents, Airborne
and
Unearthed
. Find out more at:
http://nancysmwaldman.com
.