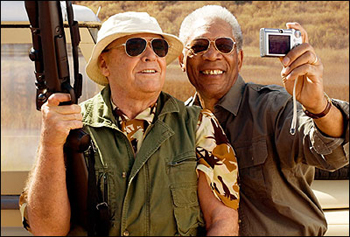 The Bucket List
Directed by Rob Reiner, 2007
Cast: Jack Nicholson, Morgan Freeman, Sean Hayes, Rob Morrow.
By Rada Djurica
Corporate billionaire Edward Cole (Jack Nicholson) and working class Carter Chambers (Morgan Freeman) are from two different worlds. Yet, they share a hospital room, both of them dying from cancer. They join together in a desire to experience things they have never done before. So together, they run away from the hospital to push each other into new adventures, discovering they do have things in common.
For a Hollywood movie featuring big-budget actors, this movie tackles a pretty unusual story: depicting the eternal human struggle for final answers. The challenge is made easy with the help of veteran actors Nicolson and Freeman and directed by Rob Reiner, who also helmed When Harry Met Sally and Misery.


Belgrade International Film Festival 2008