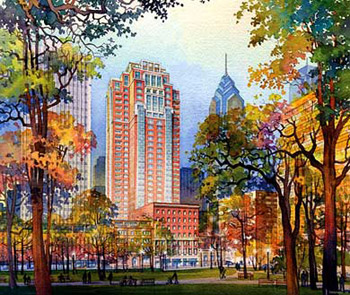 Summer of Love in Philadelphia
Twenty-two flights above Rittenhouse Square
in the spring of the fall you carved a smilin' pumpkin
candled at your windowed level,
a light in the times of horror and stress;
But below, we wandered our nights with
chapped hands interlocked, pocketed in my coat suede.

We walked blind streets of revolutionary warmer, earlier days
and handled paddles, splashing and pulling canal water,
canoeing near the Delaware,
swishing and crossing where Washington
and we escaped near New Hope,
our newest way from countless foes
through spaces of pilings of bridges
of lush foliage over hung.
We were loving friends three times over
in the spirit and the soul and the city;
though warmed in closeness we never caressed,
for you talked of betweeness and violin practice
and your distant boyfriend on the coast.
I called you evenings when I felt
despair, drafted away from Nam, taught
to work with lost children handicapped
by their errant parent's living.
But summer saw you in Quaker action
In raining D.C. for King's impoverished ones
while I never saw you ever after.
Yet your letters far crossed this land of Guthrie
from Reed in the redwoods of Oregon
where your boyfriend
raised a fist, radical for Black studies.
But south of teeming L.A.
in the movement of the angels,
I couldn't see clenched hands or shattered glass
like in the new left bank of America so Isla Vista,
Instead searched of the ancient so
coral deep in the past

on the wretched Cross spanning the centuries,
kind hands outstretched and open wide.
No more passioned letters reach me,
And Oregon no longer knows you.
But I 'wonder' in this living stream —
And will now hold you up in the Light,
for within my part of you so longs.