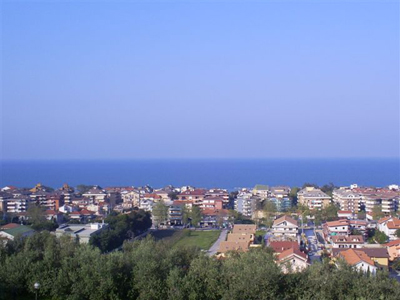 The view from the Sporting Hotel Villa Maria

Land of 1,000 Castles:
The "Ooh" in Abruzzo
(continued)
I'm in Rome, which is an easy three-hour drive from Abruzzo. Not all roads lead to Rome, but this one does. The A-24 highway is an efficient one, with picture-postcard views. And now I'm gazing down on another Kodak-moment-come-true: the view of the Forum area from the Villa Caffarelli terrace restaurant on Capitol Hill. Urns flicker with flames, and the sky turns first purple, then pink, then a streaky combination of both. It looks like a fruit gelato melting, spreading sweetly overhead. It's a lovely sight, and I breathe deep of the nighttime smells of one of the world's oldest cities.

Below the terrace, an old man paints. He's propped on a stool, easel before him, paintbrush in the air, eyes to the sights. He's in his own world, and I know just how he feels. A toddler squeals, two women walk arm-in-arm, and an Italian supermodel type teeters across the cobblestones in spiky heels. Young lovers kiss and old people smile, and all is right with the world, here above this city so full of history and religion and faith in what remains.

---
I'm in my room at the Exedra Hotel. The room is a suite, and there's a loft. From the bed, I can see the fountain of the Piazza della Republicca. I met a woman of Italian descent who told me about having an old black and white home movie of her husband walking around the fountain, 46 years ago. It was their honeymoon, and they were so happy to be in Rome. The husband is now gone; the fountain remains.

From my gigantic window in the Exedra I can also see something brand-new: the world premiere of the Spider-Man 3 movie. There's a carpet (not red but black, with spiders), risers painted red, lights and sound and crews of good-looking men in black suits. There are buses and vans and workers and hundreds of spectators. They're waiting for the movie stars to exit the theatre and walk the spider carpet. The crowd keeps stirring and cheering in anticipation, and gorgeous people exit the theatre and stroll the carpet to the flash of digital cameras. TV crews are there, and so is the papparazzi, hoping to get the best shot of Kirsten and Tobey.

But I'm here, in my bed, content. It's fun to watch the combination of old and new; the union of movie and fountain. The water splashes into concrete that's been here long before films and digital cameras and Hollywood movies.

I feel small in this big place, and I'm aware of how good life feels now, at this moment. I push the button that opens the curtains so that I can see more, and then I just kick back and relax: The Sweetness of Doing Nothing.

La Dolce Vita.